This really is the Best Low Calorie Meatloaf! It works out at under 250 calories per generous slice and it's flavourful and easy to make!
So, what's not to love .... a tasty meatloaf that is an ideal recipe for anyone following a lower calorie eating plan.
The meatloaf is made with extra lean ground beef which keeps the calories low, but with the addition of lots of other flavoursome ingredients the meatloaf is both tasty and moist & succulent.
I top the meatloaf with a tangy but sweet glaze - the perfect combination, I think!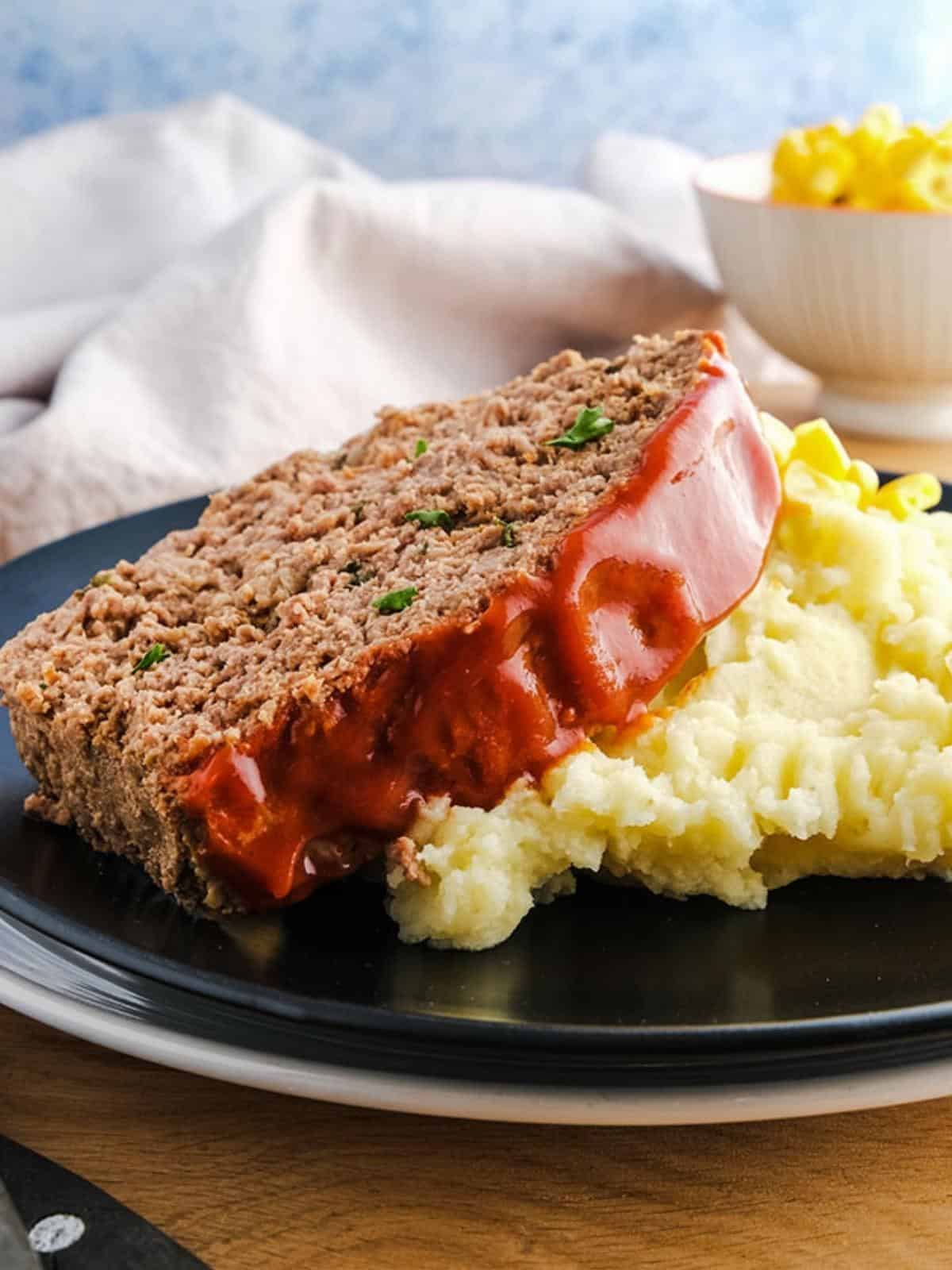 When people first embark on a healthier eating plan, they often think that 'comfort food' such as meatloaf will off the menu.
But by swapping up the ingredients a bit you can reduce the calories enough so that it can fit in with your eating plan.
I've experimented a lot with different lower calorie meatloaf recipes over the last few years. Some came out too dry and crumbly for my liking and some just lacked flavour. Others were flavoursome and moist but worked out just too high in calories for my liking.
This one, however, was just right, flavourful, moist and low in calories.
The sweet but tangy glaze that I top it with adds to the overall flavour but, importantly, not too much to the calories.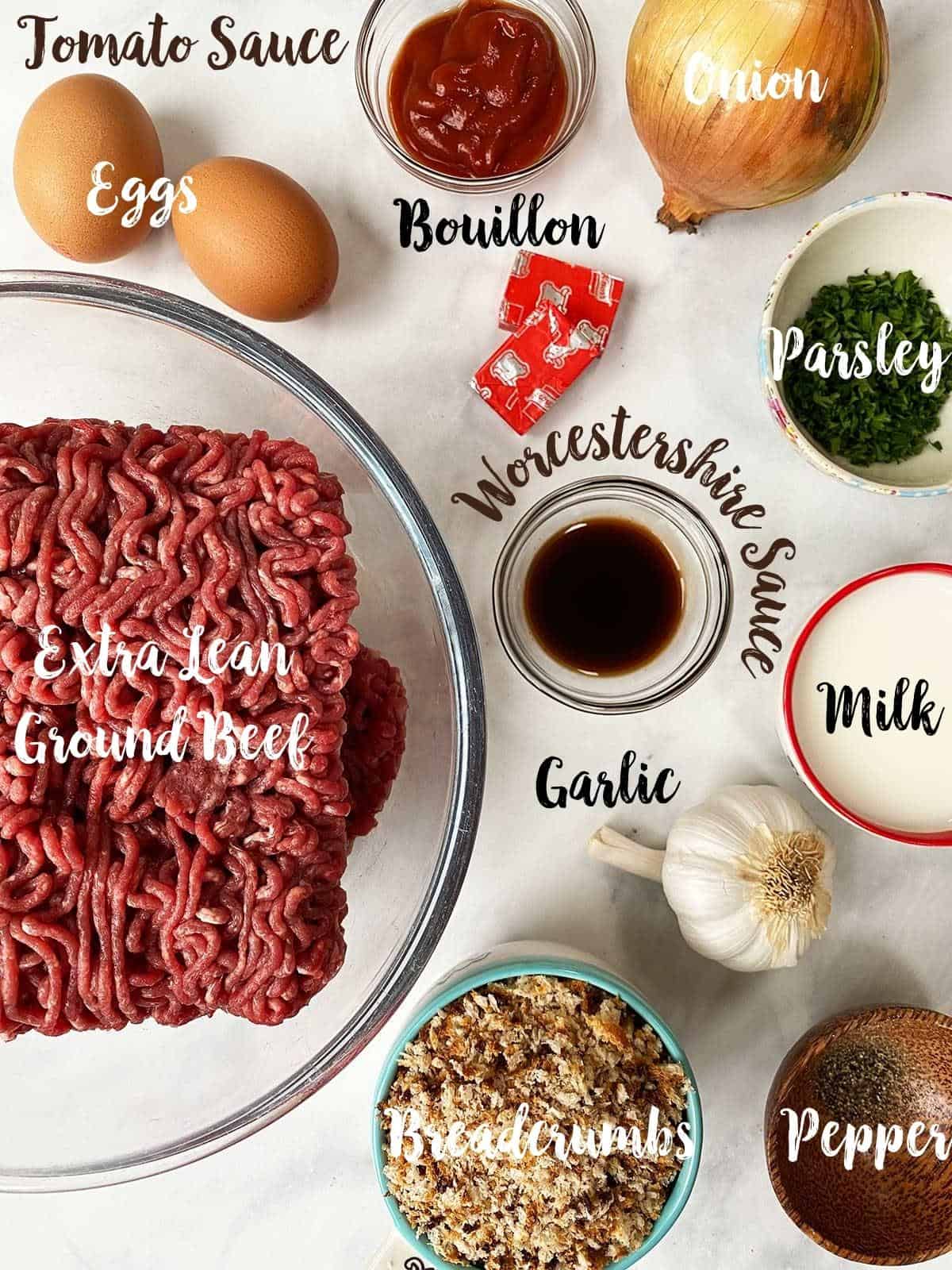 What Breadcrumbs should I use?
For this recipe, I used low calorie thin sliced white bread to make the breadcrumbs.
I toasted the slices of bread first and then made the breadcrumbs by putting the toasted bread in my food processor.
You could use panko breadcrumbs instead but this will increases the calories. I used 4 slices of low calorie white sliced bread (approx 3.5oz) & these worked out at just over 160 calories for the four slices. The equivalent weight in Panko breadcrumbs works at at over 420 calories.
If you use Panko breadcrumbs just remember to adjust the calories.
Which Ground Beef should I use?
I used extra lean ground beef in this recipe. It worked out at under 1400 calories for the kilo.
Why grate the onions?
I really wanted the flavour of onion in this recipe but did not want to be biting down on pieces of onions.
I have used grated onion in a number of other recipes and love how this can change the flavour of the dish. Why not try it for yourself to see what I mean!
Seasoning in this Meatloaf
I included bouillon cubes and Worcestershire Sauce in this recipe, both or which are salty so there was no need to add any additional salt.
If you use a low sodium stock cube you may need to add a little stock just to bring out the flavours a bit.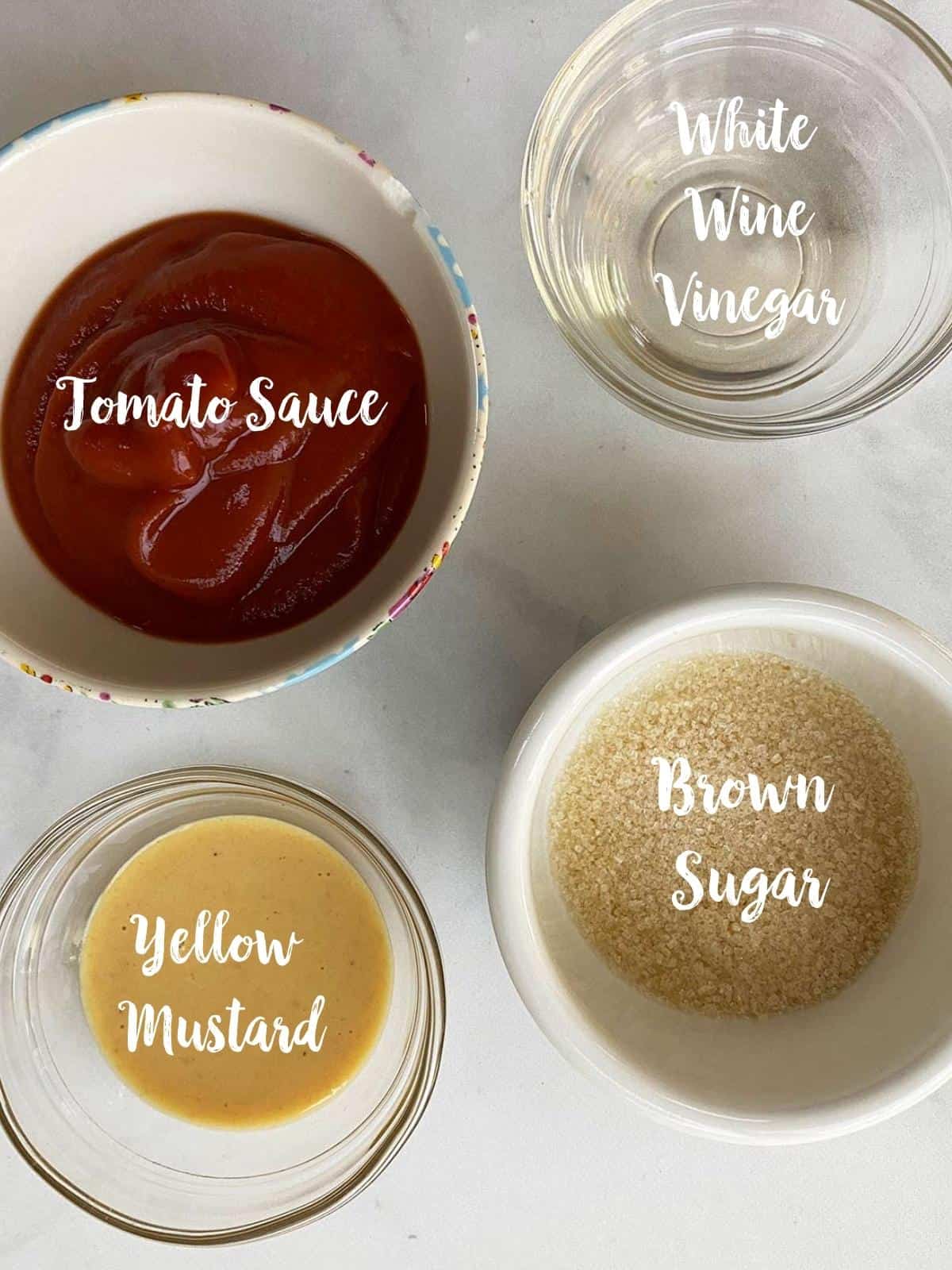 Meatloaf Glaze
I glaze this meatloaf with a mixture of tomato ketchup. yellow mustard, vinegar and sugar.
It may seem counterintuitive to use low sugar tomato ketchup and then to add sugar, but I have tried it both ways and this overall had the best flavour!
The glaze adds just the right amount of sweetness with a bit of a tang which pairs perfectly with the meatloaf.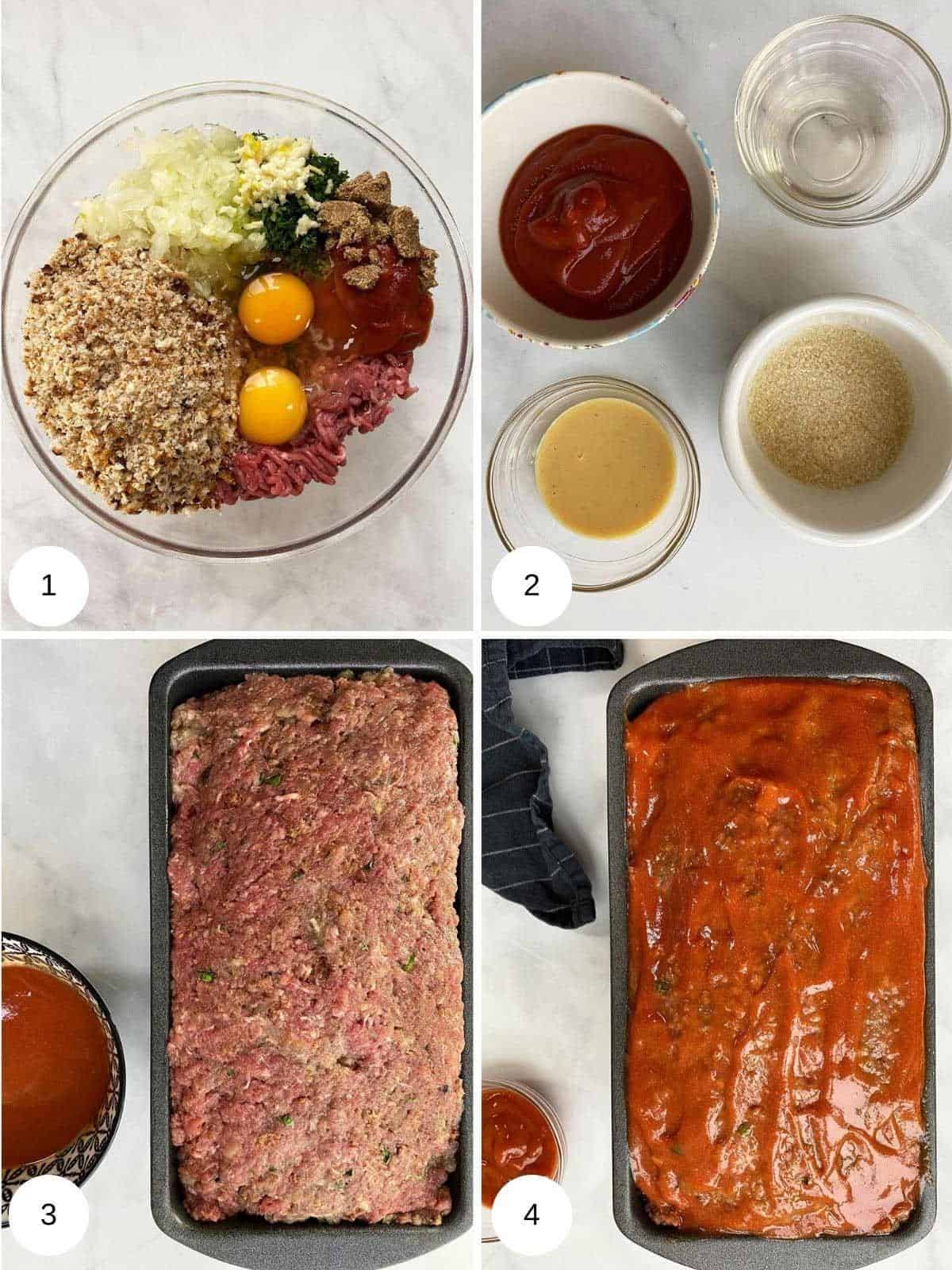 Tips for making the Meatloaf
This low calorie meatloaf really is so simple to make but there are a few suggestions to make it perfect every time!
Make sure to grate those onions!
Place all the ingredients for the meatloaf in a large bowl (picture 1) and use your hands to really blend them together. If you don't like the idea of using your hands to do this you can use a wooden spoon but really make sure that the mixture is thoroughly mixed for best results.
The mixture s really wet - don't be scared of this, it helps keep the meatloaf nice and succulent!
Combine all of the ingredients to make the glaze (picture 2) but don't use it all at once! Use half of it to glaze the meatloaf before it goes in to bake and then use the rest once the meatloaf has been baking for 50 minutes. It is then returned to the oven for a further 25 minutes.
How long does it keep?
This meatloaf will keep, properly stored, in the fridge for 3 to 4 days.
Can I freeze any leftovers?
Yes you can!
Bake the meatloaf as outlined. Cool the meatloaf completely before portioning it up and placing the individual slices into freezer safe food storage bags. This should be done on the day of baking.
When you fancy a slice of meatloaf, remove from the freezer and defrost in the fridge. Reheat till piping hot.
Alternatively, you can freeze the whole meatloaf before baking - just leave off the glaze till you want to bake it. Remove it from the freezer and leave it to defrost thoroughly before cooking as instructed below.
Serving Suggestions
For the ultimate comfort food I like to serve this meatloaf with mashed potato and sweet corn or garden peas.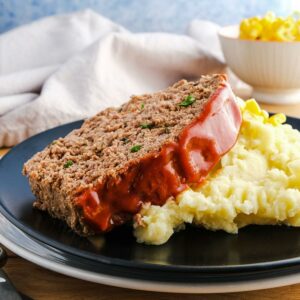 Best Low Calorie Meatloaf
This low calorie meatloaf is the perfect dinner recipe for anyone following a low calorie eating plan. It is easy to make, tastes delicious and really fills you up. Topped with a tangy, tomato sauce, you really wouldn't know that this Meatloaf was low in calories.
Ingredients
35

oz

extra lean ground beef

(1kg) 5% fat or lower

4

slices

low calorie white bread

toasted & made into breadcrumbs *

2

medium

eggs

1

tablespoon

Worcestershire Sauce

1

medium

onion

grated

3

cloves

garlic

minced

2

beef bouillon / stock cubes

crumbled

½

teaspoon

black pepper

⅓

cup

skimmed milk

(70ml)

2

tablespoon

tomato ketchup

50% less sugar

1

handful

parsley

chopped (optional)

5

sprays

calorie controlled spray oil
Topping
4

tablespoon

tomato ketchup

50% less sugar

1

tablespoon

light brown sugar

1

tablespoon

white wine vinegar

1 - 2

tablespoon

yellow mustard
Instructions
Preheat the oven to 180°C / 160°C Fan Assisted / 350°F

Grease a loaf tin (approx 9 x 5 inches) with calorie controlled spray oil.

Make the breadcrumbs by toasting the bread slices and then crumbling them to make fine breadcrumbs. *

Grate the onion using a coarse grater. Doing this adds much more flavour to this recipe than if you were just to dice the onion.

Place the ground beef, breadcrumbs, eggs, Worcestershire sauce, grated onion, minced garlic, black pepper, crumbled bouillon cubes, milk and tomato ketchup (2 tablespoons) into a large bowl.

Use your hands (or a wooden spoon if you prefer) to thoroughly combine all of the ingredients. Stir in the chopped parsley, if using.

The mixture will be very wet but this helps the meatloaf to stay moist and prevents it from crumbling once cooked & sliced.

Spoon the meatloaf mixture into the pre-greased loaf tin and smooth the top.

In a small bowl mix up 4 tablespoons of tomato sauce with the sugar, mustard and white wine vinegar.

Spread half of the glaze on top of the meatloaf and set aside the remaining glaze for later.

Place the meatloaf on the middle shelf of the preheated oven and cook for 50 minutes. You may want place a baking tray under the loaf tin to catch any spillages.

After 50 minutes remove the meatloaf from the oven and spread over the remaining glaze.

Place the meatloaf back in the oven and cook for a further 25 minutes.

Remove from the oven and let the loaf stand for 10 minutes or so before slicing it into 8 generous slices.
Notes
* Please read notes above about breadcrumbs!
Nutrition
Serving:
1
eighth
Calories:
241
kcal
Carbohydrates:
9
g
Protein:
29
g
Fat:
8
g
Saturated Fat:
3
g
Polyunsaturated Fat:
1
g
Monounsaturated Fat:
4
g
Trans Fat:
1
g
Cholesterol:
118
mg
Sodium:
380
mg
Potassium:
527
mg
Fiber:
1
g
Sugar:
4
g
Vitamin A:
129
IU
Vitamin C:
2
mg
Calcium:
60
mg
Iron:
4
mg