This simple to make Low Calorie Hummus works out at under 120 calories per serving. Each serving is just over a quarter of a cup.
Hummus makes a delicious dip for raw veggie strips or can be used as a spread in sandwiches and wraps.
Traditional hummus can be quite high in calories as it contains olive oil and tahini, both of which are highish in calories.
Olive oil works out at about 120 calories per tablespoon and tahini at about 90 calories per tablespoon. That really stacks up the calories if a recipe calls for 3 tablespoons of each!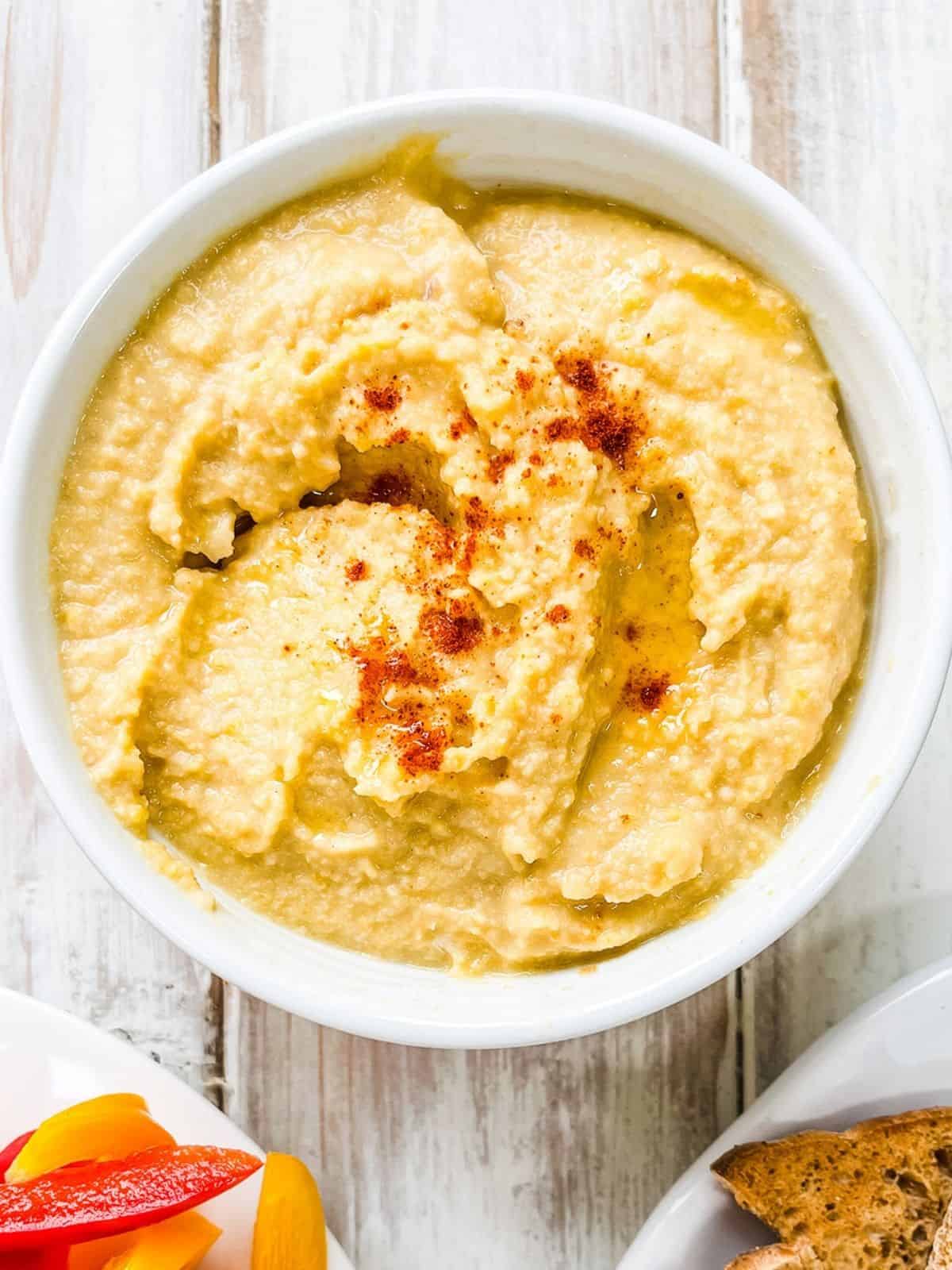 I don't think that the recipe lacks anything from leaving out the olive oil and tahini ... except calories!
But if you like the nutty flavor that tahini can give to hummus why not add 1 tablespoon to this recipe and see how you like that! It will give you a nuttier hummus but will also add an extra 23 calories per serving.
In this recipe I added some low fat yogurt for creaminess and some of the retained chickpea water (aquafaba) to help create a smooth dip.
Ingredients in this Low Calorie Hummus
Chickpeas
Lemon juice
Chickpea water (aquafaba)
Olive oil
Fat free yogurt
Garlic
Salt
Paprika
Cumin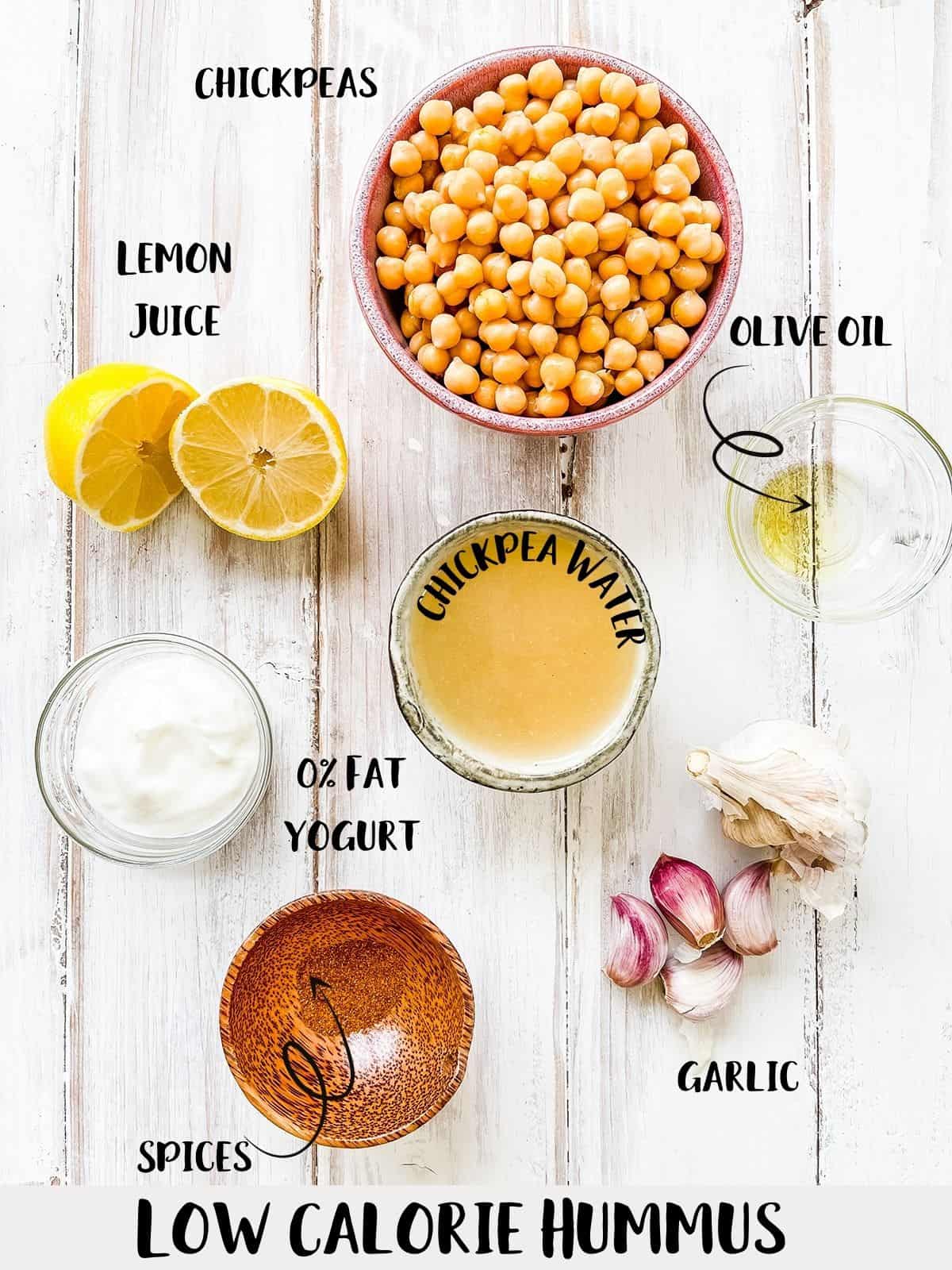 Serving suggestions
Spread on sandwiches, wraps or pitta bread.
Use as a dip for chips or toasted pitta bread.
Use as a dip for veggies (carrot sticks, celery, sliced bell pepper etc).
How about using as a dip for sliced apple - it's great!
Use as a topping for low calorie burgers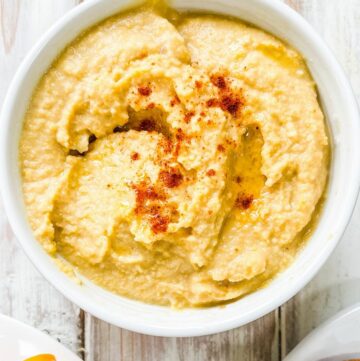 Low Calorie Hummus
This Low Calorie Hummus is easy & quick to prepare. It works out at under 120 calories per ¼ cup and is a tasty and filling snack or dip for anyone following a low calorie or calorie controlled plan.
Ingredients
1

can

chickpeas

1 x 15oz can

2

tablespoon

fat free natural yogurt

1

tablespoon

lemon juice

1

clove

garlic

minced

½

teaspoon

ground sea salt

½

teaspoon

ground cumin

¼

teaspoon

paprika

½

teaspoon

olive oil
Instructions
Place the contents of the can of chickpeas in a saucepan (chickpeas and the water) and bring to a gentle simmer.

Simmer for 15 - 20 minutes.

Remove from the heat and remove the chickpeas from any remaining water (aquafaba) using a slotted spoon. Make sure to keep the water that is left over as you will use this later!

Place the chickpeas, yogurt, lemon juice, minced garlic, salt & cumin into the bowl of a food processor.

Blitz on high until the mixture is smooth.

Add the chickpea water a tablespoon at a time, blitzing between each addition until you have a good consistency. I tend to add between 2 & 3 tablespoons for a nice spreadable consistency.

Serve with a sprinkling of paprika and a drizzle of olive oil.
Nutrition
Serving:
1
x ¼ cup
Calories:
113
kcal
Carbohydrates:
17
g
Protein:
6
g
Fat:
3
g
Saturated Fat:
1
g
Polyunsaturated Fat:
1
g
Monounsaturated Fat:
1
g
Cholesterol:
1
mg
Sodium:
614
mg
Potassium:
203
mg
Fiber:
5
g
Sugar:
1
g
Vitamin A:
83
IU
Vitamin C:
2
mg
Calcium:
64
mg
Iron:
2
mg