This Low Calorie Breakfast Casserole works out at less than 160 calories per serving, making it the perfect breakfast recipe for anyone following a lower calorie eating plan.
The casserole is easy to make, using frozen shredded hash browns, eggs, onion, turkey bacon (or bacon medallions) and cheese. It takes about 10 minutes to 'throw' together and about 40 minutes to bake.
It can be eaten warm or cold, but I particularly love it hot straight from the oven.
If I am eating it for breakfast or brunch, I tend to eat it on its own but it's also great served with a side salad at lunchtime!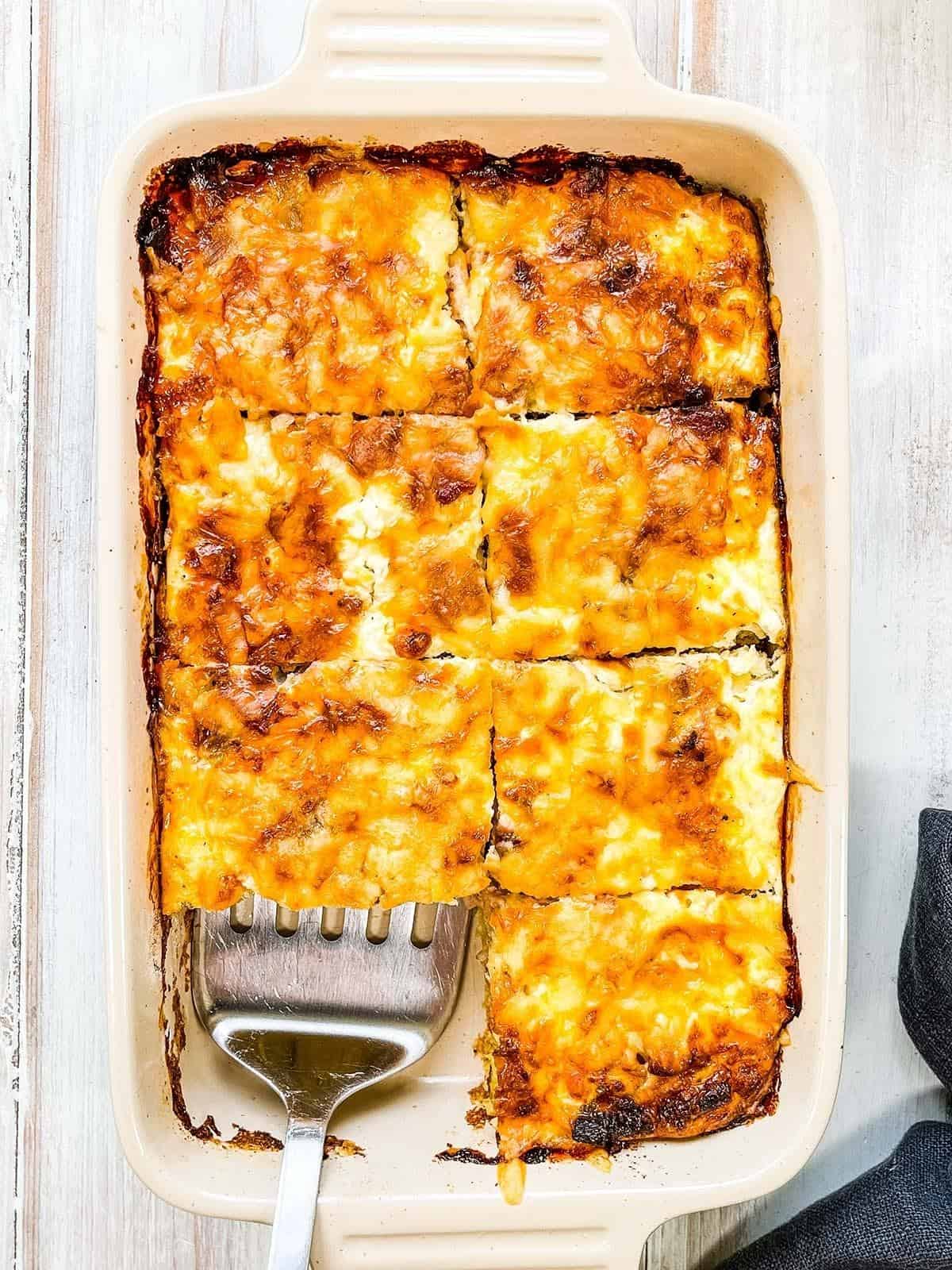 Eating a filling breakfast really is important for me in maintaining a healthy weight. I find that if I skip breakfast for any reason I will snack more and when I snack more my eating plan goes to pot!
So eating a slice of this breakfast casserole keeps me on track for the whole morning. It fills me up and it's really tasty too.
As I mentioned above, it's also really easy to make. You can make it ahead of time and it keeps in the fridge for a couple of days. You can then take a piece to reheat whenever you want.
It is also suitable for home freezing - more about that below!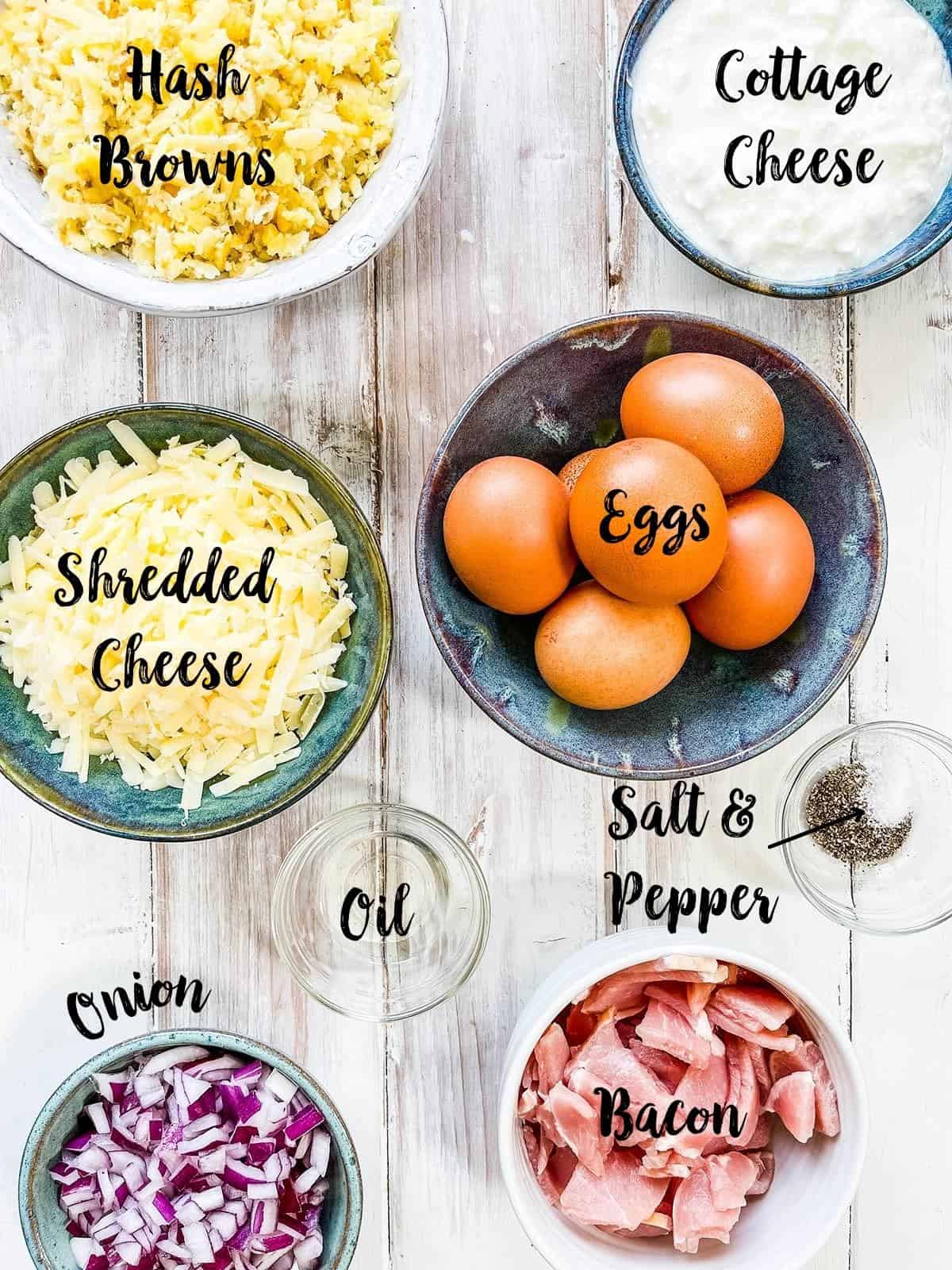 Traditional breakfast casseroles typically include LOTS of cheese, bacon or breakfast sausage. Many recipes include sour cream which (unfortunately) is pretty high in calories.
So for this recipe, I used low fat cottage cheese as a replacement for soured cream.
If you're not a fan of cottage cheese please don't worry, you really wouldn't know that it was in there. But using it does give the casserole that nice creamy consistency that would be lacking without it.
I also use a fat free shredded cheddar to sprinkle over the top for that cheesy taste. A good tip is to use a sharp cheddar as this makes the breakfast casserole even cheesier!
Instead of 'full fat' bacon I use either turkey bacon or bacon medallions (which are wildly available in the UK). This keeps the calories low.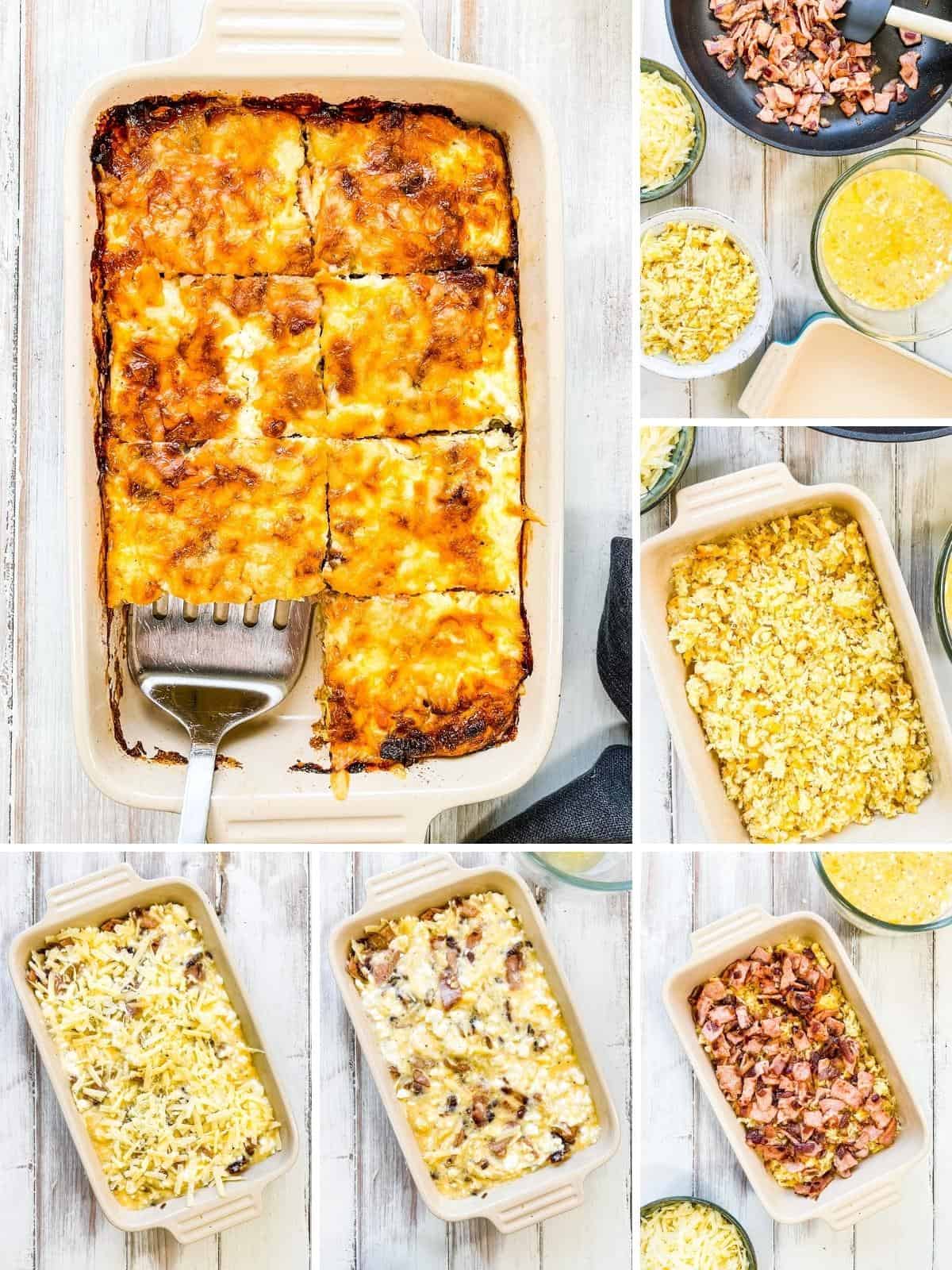 What Cheese can I use?
I like to use a sharp cheddar cheese as this gives the most cheesy taste for the calories!
I tend to use block cheese rather than pre shredded cheese as this (in my opinion) melts better on top of the casserole.
The fat free sharp cheddar cheese that I use works out at 163 calories for 1 cup shredded. You may find fat free cheese that works out at even fewer calories.
If you were to use a full fat shredded cheese it would double the calorie content per cup ... at least!
Which Hash Browns can I use?
The calories in shredded hash brown potatoes differ between brands.
Ore-Ida Shredded Hash Brown Potatoes work well and are under 130 calories per 6oz (roughly 2.5 cups).
If you can't find this brand I would suggest working out the calories on the back of the packet and working out how many cups you can get for 130 calories. Shredded Hash Browns with lots of added ingredients (i.e flour and oil) are going to be much higher in calories so look for ones with fewer ingredients.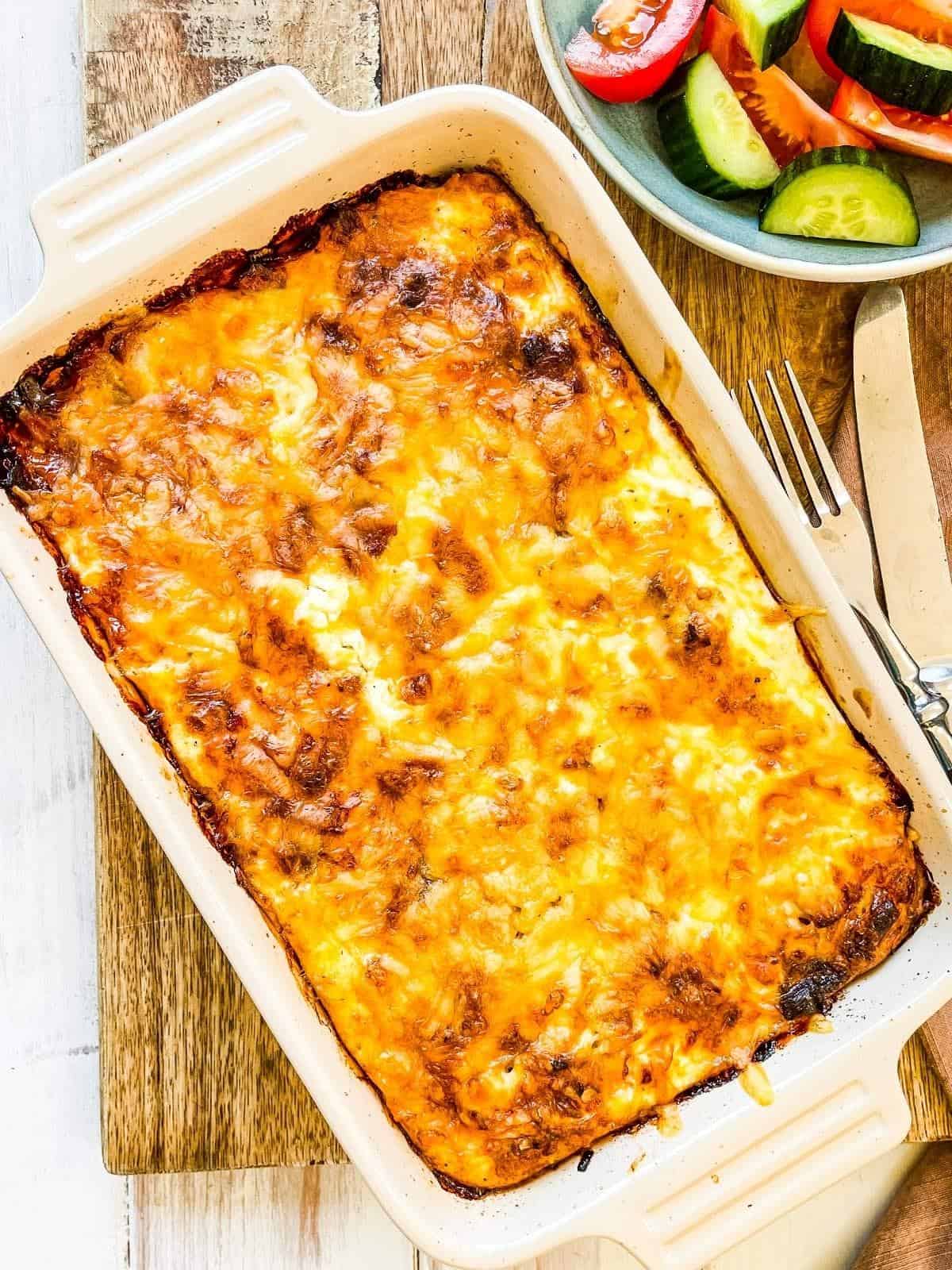 Storage
This Low Calorie Breakfast Casserole keeps in the freezer for up to 3 months.
You can bake the casserole, let it cool completely, portion it up and freeze the portions individually.
That way, you can remove a piece from the freezer to defrost the night before you want to eat it for breakfast.
Alternatively, the casserole keeps in the fridge, covered, for a few of days.
Just heat thoroughly before eating.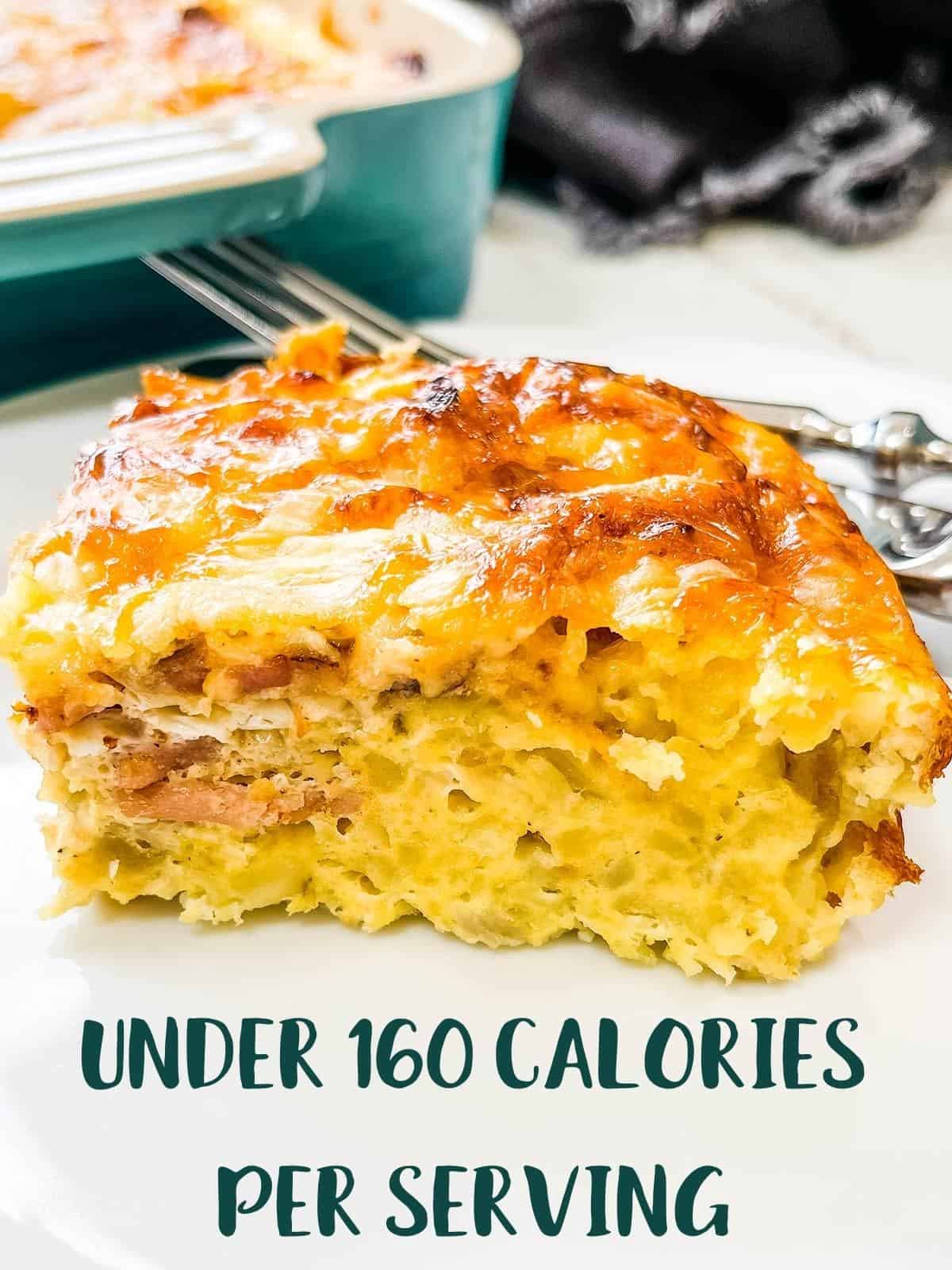 Can I make Breakfast Casserole in advance?
Yes, you can make the casserole the day before. Don't bake it, just cover it tightly and place it in the fridge overnight. You may find you get better results if you don't add the shredded cheese till you are ready to bake it.
It can then be removed from the fridge and left for 30 - 60 minutes at room temperature before placing in the oven and baking.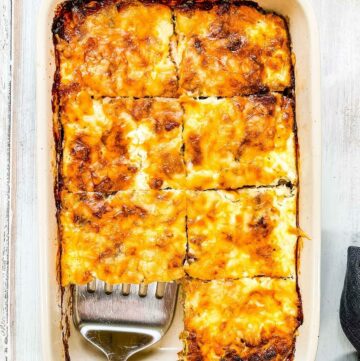 Low Calorie Breakfast Casserole
This low calorie breakfast casserole works out at under 160 calories per slice. It is hearty & filling, great for those cold winter mornings.
Ingredients
6

oz

shredded hash browns

(170g) see notes above

1

small

red onion

diced

6

slices

turkey bacon / bacon medallions

diced

5

sprays

calorie controlled oil

such as Pam or Frylight

6

large

eggs

1

cup

fat free cheddar cheese

(110g) shredded

1

cup

low fat cottage cheese

(225g)

¼

teaspoon

salt

¼

tablespoon

black pepper
Instructions
Preheat the oven to 350°F / 180°C / 160°C fan assisted

Place the shredded hash browns in a bowl and set aside to defrost.

Dice the turkey bacon or bacon medallions into small pieces. Spray the bottom of a non stick frying pan with some calorie controlled spray oil and heat over a low heat. Add the bacon bits and cook for a minute before adding the diced onion.

Turn up the heat a little and cook the bacon and onions until the bacon has browned slightly and the onion has started to soften. This will probably take 4 - 5 minutes. You may need to add a little water every now and again just to stop the bacon and onion sticking to the bottom of the pan.

Layer the shredded hash brown on the bottom of a 9 x 6 casserole dish and sprinkle the cooked onions and bacon pieces evenly over the top.

In a bowl, whisk the eggs till they are light and fluffy and season with the salt and pepper. Mix in the cottage cheese.

Pour this mixture on top of the casserole and top with the shredded cheese.

Bake in the centre of the oven for 35 - 40 minutes or until a knife inserted into the middle of the casserole comes out clean.

Remove from the oven and leave to stand for 5 - 10 minutes before slicing into eight pieces.
Nutrition
Serving:
1
eight
Calories:
158
kcal
Carbohydrates:
8
g
Protein:
15
g
Fat:
7
g
Saturated Fat:
2
g
Polyunsaturated Fat:
2
g
Monounsaturated Fat:
3
g
Trans Fat:
1
g
Cholesterol:
152
mg
Sodium:
695
mg
Potassium:
240
mg
Fiber:
1
g
Sugar:
3
g
Vitamin A:
417
IU
Vitamin C:
3
mg
Calcium:
140
mg
Iron:
1
mg