This easy to make Low Calorie Baked Oatmeal with Blueberries works out at just 175 calories per generous serving.
The recipe is simple to make and can be enjoyed either warm or cold. It makes an ideal breakfast and being packed full of oats it will keep you satisfied & full of energy till lunch.
The recipe doesn't contain processed sugar, just a little maple syrup with the remaining sweetness coming from the mashed banana and the juicy blueberries.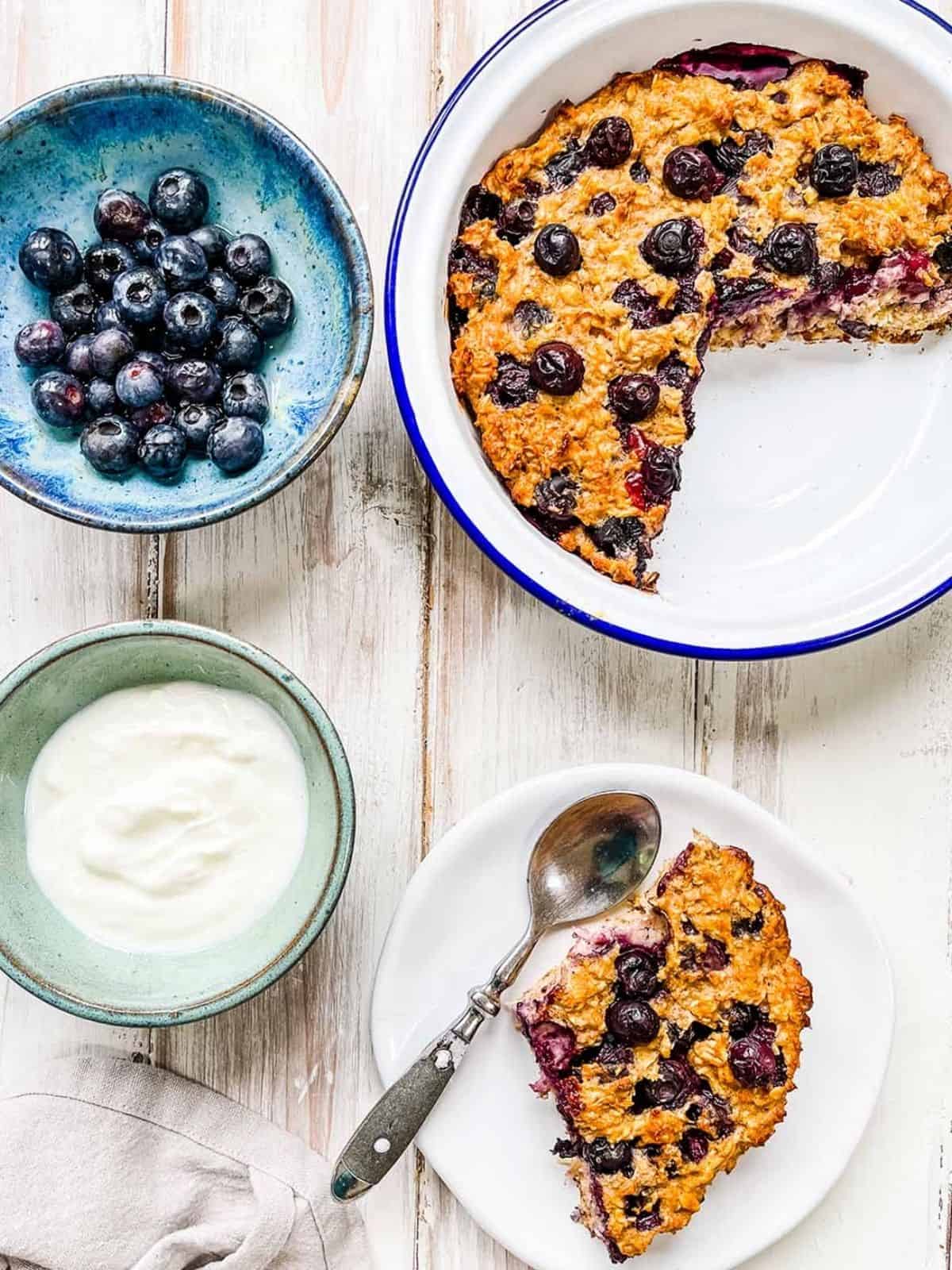 Oatmeal based dishes are a great choice for breakfast. They fill you up and are a good source of fibre and are rich in antioxidants.
In fact oats are so good for you that the World Health Authority (WHO) recommends them as one of the components of a healthy diet.
Instead of adding lots of processed sugar to sweeten this recipe, I decided to add mashed banana. This added most of the required sweetness with a fraction of the calories.
I also added just a little maple syrup to up the sweetness level but you could use honey instead or if you'd prefer you could leave it out completely.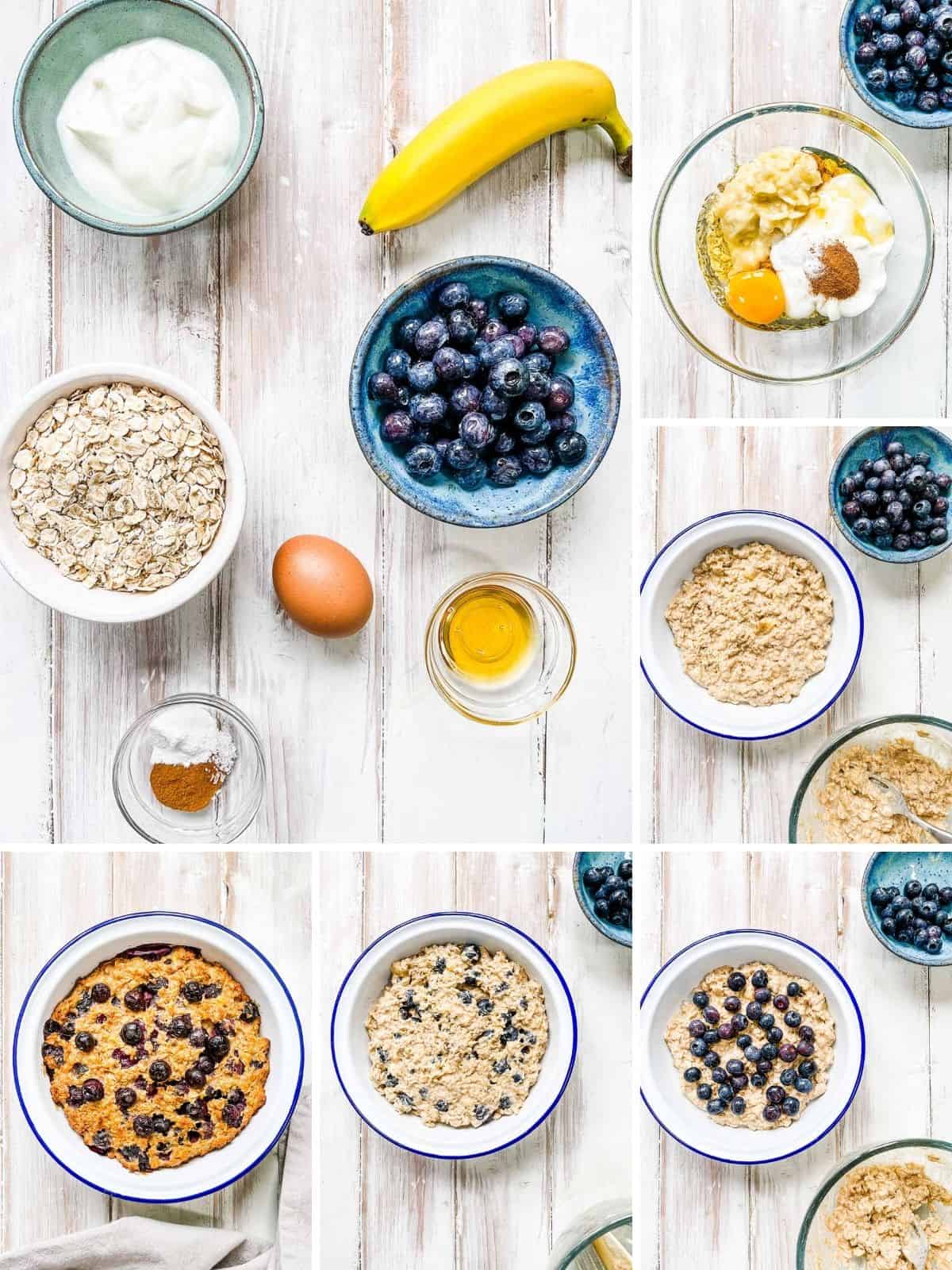 Tips for making this Baked Oatmeal
For best results place the prepared mixture in the fridge to chill for 30 minutes before baking.
Don't mix the blueberries in to the mixture, layer them instead. This prevents the finished dish taking on a grayish hue! Who want's to eat gray food - not me!
Bake until golden brown.
Serve warm with a handful of fresh blueberries and a dollop of fat free natural yogurt (extra calories).
I use old fashioned oats in this recipe as I find that this gives the baked oatmeal the best texture.
How to store Baked Oatmeal
If you have left over baked oatmeal it can be stored in the fridge for 3 or 4 days.
Make sure that the baked oatmeal is completely cool and cover it with tinfoil or cling wrap before you place it in the fridge.
You can then reheat individual portions of it in the microwave for 30 - 45 seconds.
You can also freeze the baked oatmeal. I tend to divide into individual portions. I wrap them separately and freeze until needed.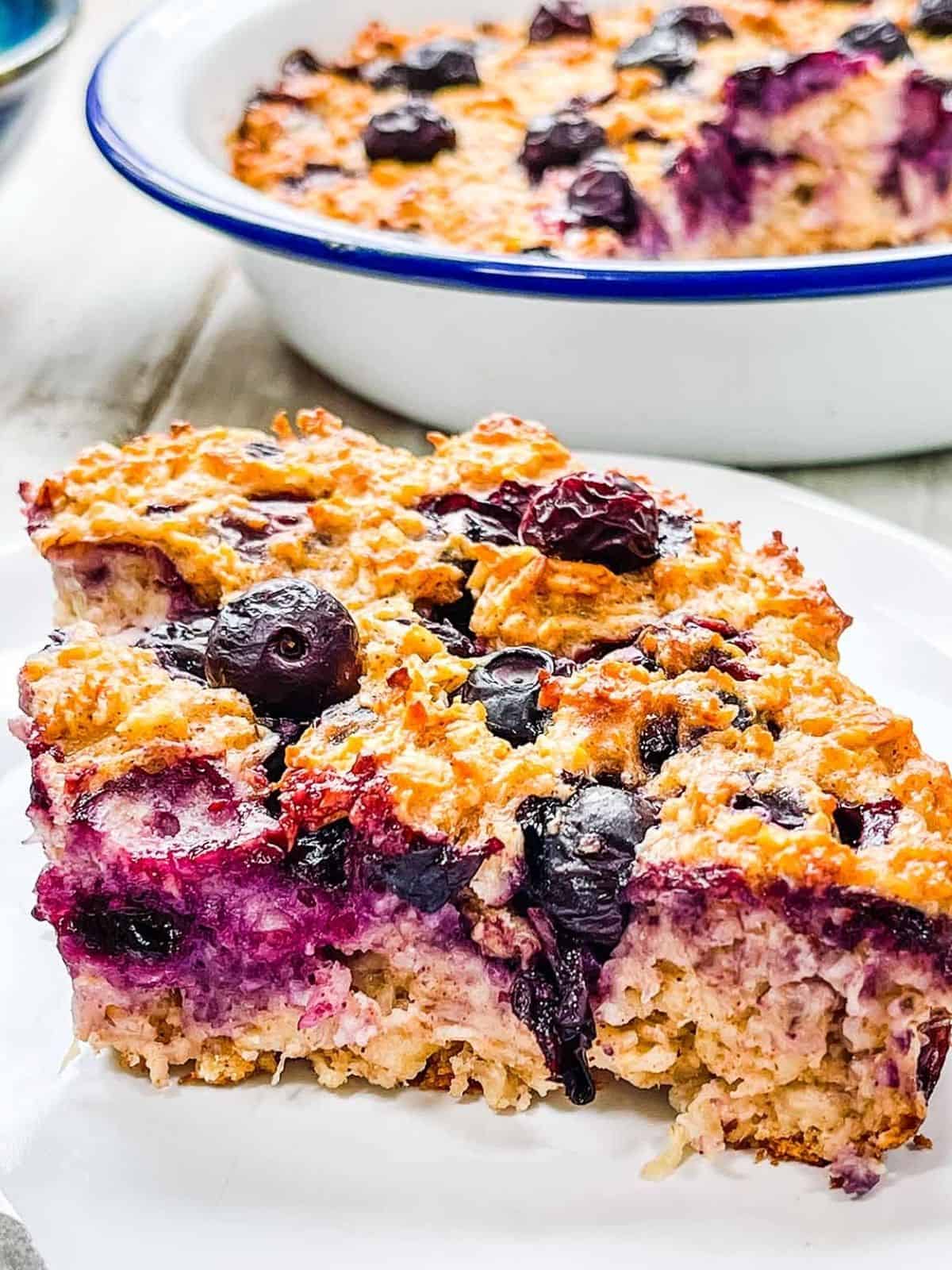 Variations & Swaps
Swap out the maple syrup for honey (additional 12 calories for whole recipe!)
Leave out the maple syrup and reduce the calories for the whole recipe by 52!
Use artificial sweetener instead of maple syrup.
Use fat free greek yogurt instead of natural yogurt (additional calories).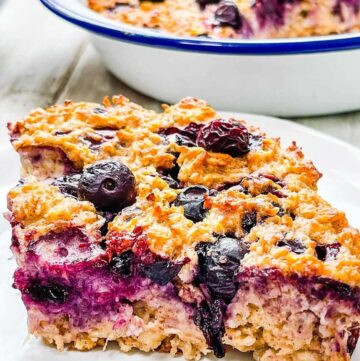 Low Calorie Baked Oatmeal with Blueberries
This easy to make Baked Oatmeal with Blueberries is a filling breakfast recipe that is low in calories making it the perfect dish to start off your day.
Ingredients
1

cup

oats - old fashioned

(80g)

1

medium

banana

1

medium

egg

(whisked)

1

tablespoon

maple syrup

1

teaspoon

cinnamon

1

teaspoon

vanilla extract

½

teaspoon

baking powder

1

pinch

salt

1

cup

blueberries

(150g)

½

cup

fat free natural yogurt

(120g)

5

pumps

calorie controlled spray oil
Instructions
Mash the banana in a medium sized bowl using the back of a fork.

Add the oats, whisked egg, maple syrup, vanilla extract, cinnamon, baking powder, salt and yogurt and stir until combined.

Cover the bowl in cling wrap and place in the fridge to chill for at least 30 minutes.

Preheat the oven to 350°F / 180°C /160°C fan assisted.

Grease a small 7 inch baking dish with a little calorie controlled oil.

Spoon half of the mixture into the greased baking dish and smooth over the bottom of the dish.

Layer with half of the blueberries.

Carefully spoon the rest of the mixture on top of the berries and smooth out carefully trying not to squash too many of the berries.

Lastly, top with the remaining blueberries.

Bake in the middle of the preheated oven for 30 to 35 minutes or until the baked oatmeal has turned golden brown.

Serve warm or cold with some extra blueberries and a dollop of fat free yogurt.
Nutrition
Calories:
175
kcal
Carbohydrates:
32
g
Protein:
6
g
Fat:
3
g
Saturated Fat:
1
g
Polyunsaturated Fat:
1
g
Monounsaturated Fat:
1
g
Trans Fat:
1
g
Cholesterol:
42
mg
Sodium:
104
mg
Potassium:
316
mg
Fiber:
4
g
Sugar:
13
g
Vitamin A:
102
IU
Vitamin C:
6
mg
Calcium:
121
mg
Iron:
1
mg