These low calorie Baked Apples are sweet, easy to make and work out at just under 200 calories per serving, making them a wonderful low calorie dessert choice.
If you are looking for a great apple recipe that is simple to make, why not try this one.
It only uses 6 basic ingredients, takes minutes to prepare and just 40 minutes to bake.
Best served warm, these baked apples which are stuffed & topped with a sweet, buttery oat mixture, are delicious served with a scoop of ice cream (low calorie of course!) on the side.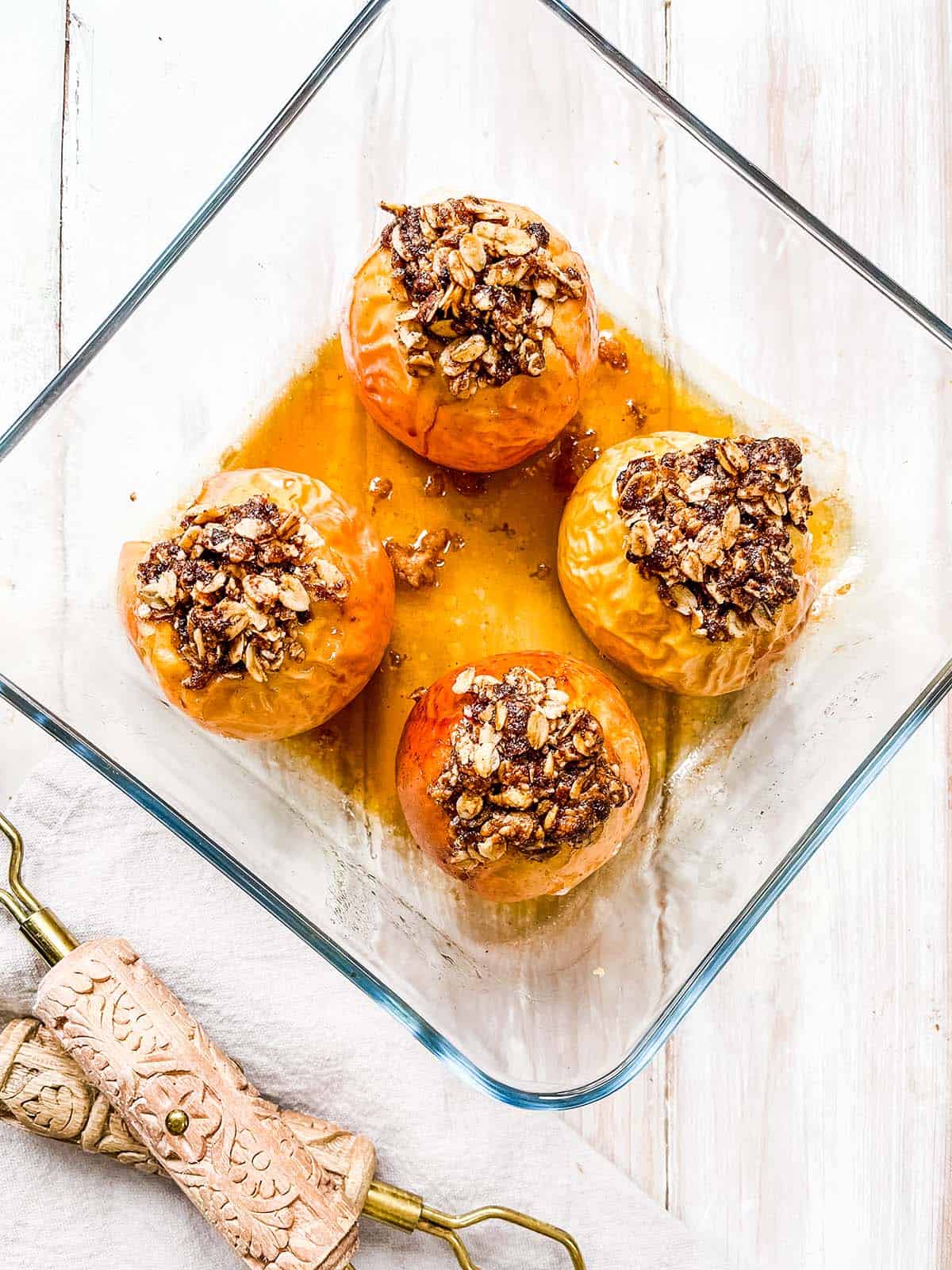 You can bake apples in a number of different ways. They can be thinly sliced and layered in a baking dish, they can be halved, cored & topped with a sauce. Or they can be baked whole, like these, with the core removed and stuffed with a delicious filling.
In this particular recipe I have stuffed the apples with a sweet, buttery oat mixture that is lightly flavoured with cinnamon. They are perfect!
Calories in Baked Apples
Each baked apple works out at 198 calories.
The apples on their own are just under 100 calories each and then they are filled with a sweet & buttery oat filling.
You could reduce the calories for the baked apples by halving the oat mixture (they would then work out at approximately 150 calories per serving) but I like this ratio of apple to filling .... and I am sure you will too!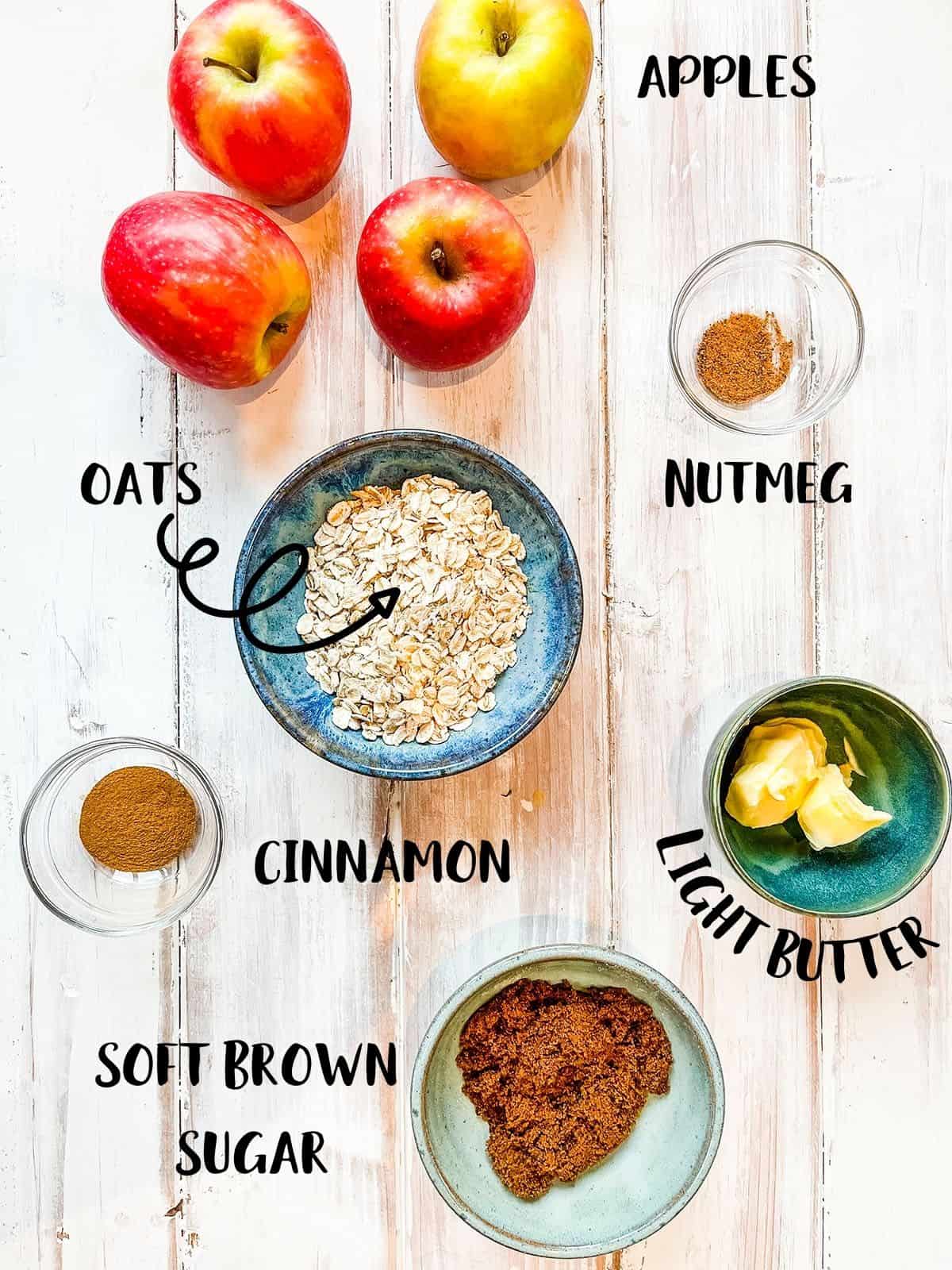 Ingredients used
Apples
Oats
Light butter or margarine
Soft brown sugar (light or dark - the choice is yours!)
Ground cinnamon
Groung nutmeg
Water
Best apples for baking
I've tested this recipe on a number of different apple varieties with varying results.
I definitely like to use a sweeter apple variety, but then I have got a very sweet tooth!
The following are all good choices - they tend to hold their shape & don't turn to mush whilst baking!
Braeburn
Golden Delicious
Pink Lady
Honey Crisp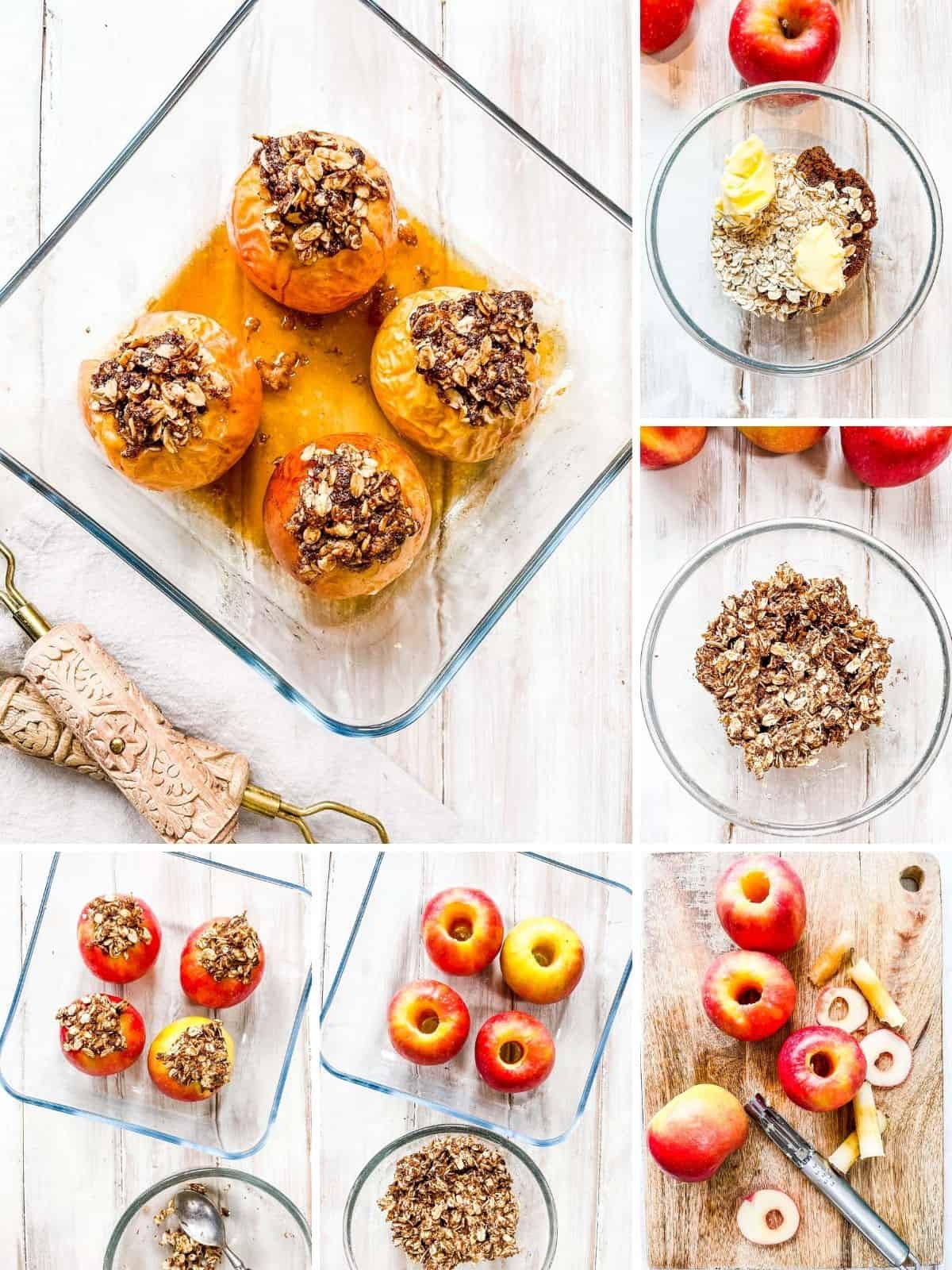 This post contains affiliate links. As an Amazon Associate I earn from qualifying purchases. Visit this page to see what that means.
Tips for making Baked Apples
This really is such a simple recipe but there are a few tips and tricks that can make the dish even more simple prepare.
Once that you have combined the oats, butter, spices and sugar you will want to core the apples.
I have found that the easiest way to do this is to take a very thin slice from the bottom of the apple prior to using the apple corer. This helps keep the apple steady when you push the corer through the flesh of the apple.
I use an apple corer, like this one from Amazon.
If you don't have an apple corer, there is an article here about how you can safely core apples without one!
Once the apple has had the core removed, I push a couple of teaspoons of the mixture down into the hole, packing it down firmly. I then spoon another teaspoon or so of the mixture on top of the apple, pressing it down a little so it doesn't slide off the top.
Lastly, before baking, I put 4 - 5 tablespoons of warmed water in the bottom of the dish. This stops the apples from drying out too much when baking.
If a few bits of the oats and sugar mixture drops into the water don't worry. The juice that is left at the end of baking, will have thickened with the baking & can then just be spooned back on to the apple before serving!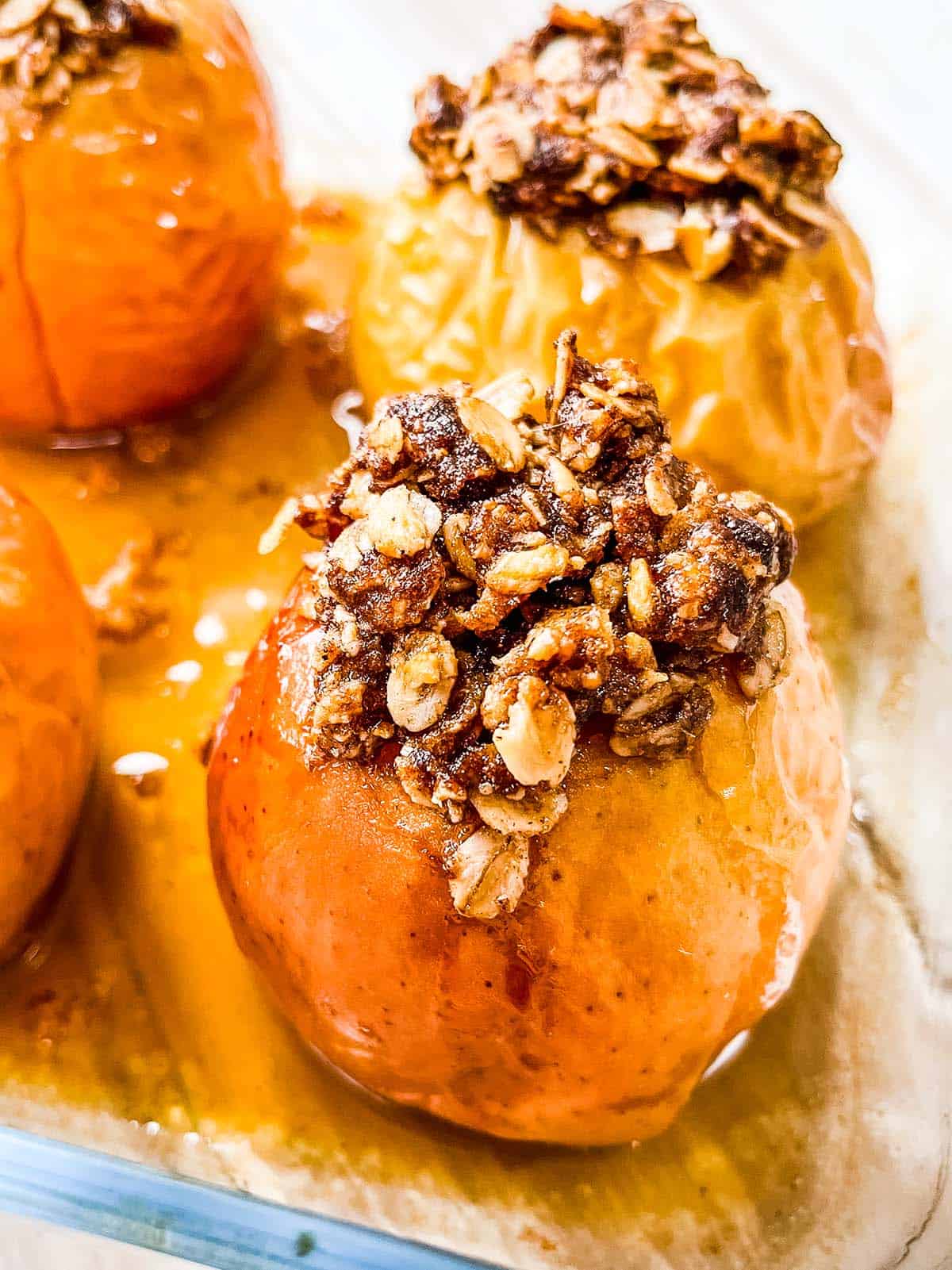 Serving suggestions
These baked apples are delicious served on their own ..... but my favorite is to serve them still warm from the oven with a spoonful of ice cream!
A spoonful of yogurt also works well and if it's a fat free natural unsweetened variety it shouldn't increase the calories too much!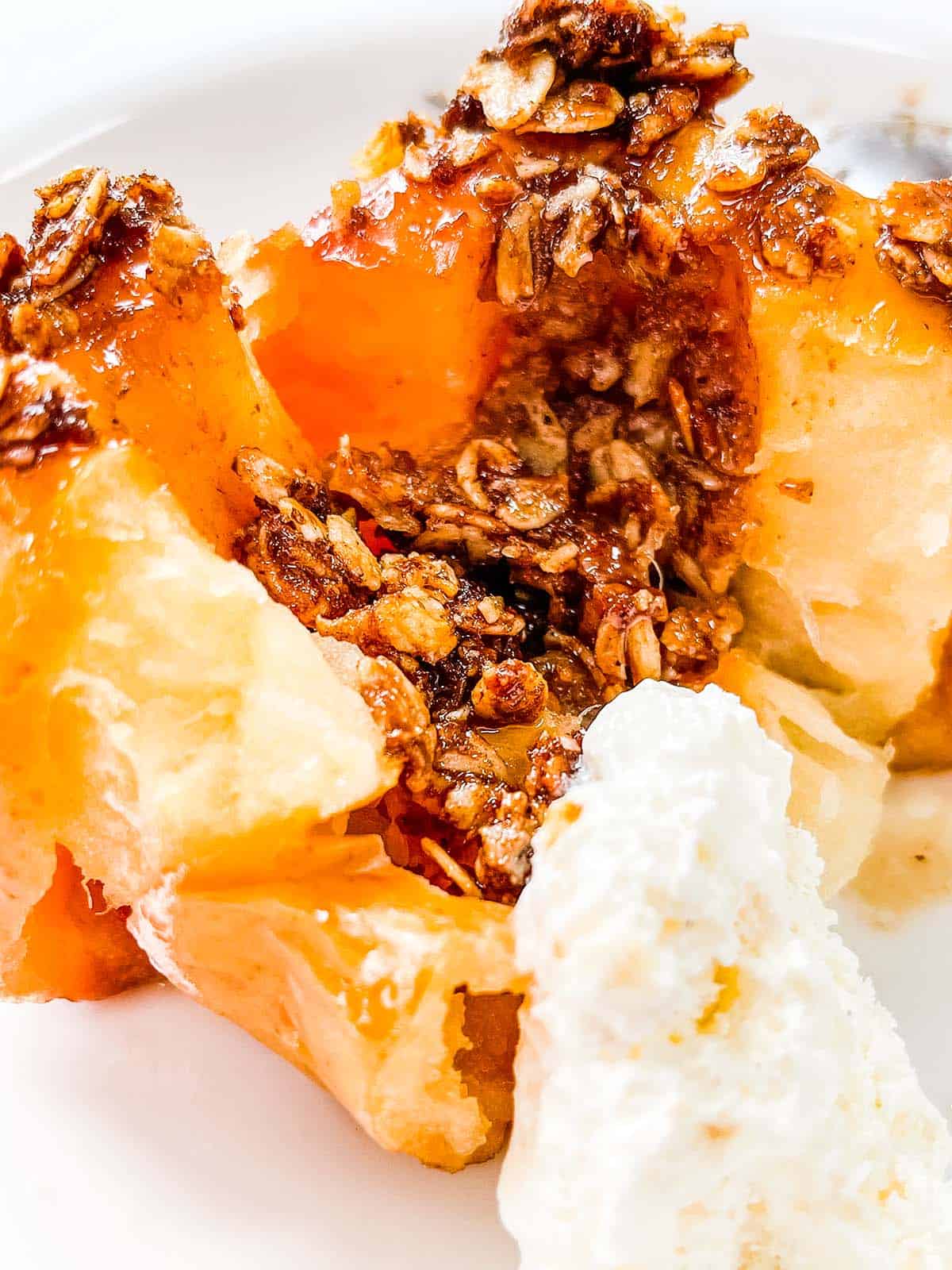 Storing baked apples
Unfortunately, the apples aren't suitable for freezing.
They will, however, keep covered in the fridge for a day or two after making - any longer than that & I have found that they start to soften too much.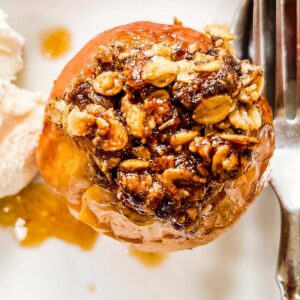 Low Calorie Baked Apples
These tasty low calorie baked apples work out at under 200 calories per serving. Easy to make, they are sweet, filling and delicious but low enough in calories to be enjoyed as part of a calorie controlled diet.
Ingredients
4

medium

apples

I used Braeburn

½

cup

rolled oats

(40g)

2

tablespoon

light butter

(30g) room temperature

2.5

tablespoon

dark brown sugar

0.75

teaspoon

ground cinnamon

0.25

teaspoon

ground nutmeg

4

tablespoon

water

warmed
Instructions
Preheat the oven to 190°C / 375°F

Place the oats, butter, sugar, cinnamon and nutmeg in a small bowl.

Use a knife to mix the ingredients with a slicing motion until all the ingredients have combined. Set aside.

Wash the apples in cold water and pat dry with a paper towel.

Slice a thin bit off the bottom of each apple. This makes coring the apples a little easier but also helps the apples stay upright whilst baking.

Use an apple corer to remove the cores from each apple (if you don't have an apple corer or need more information on how to core your apples take a look at the information above for more information).

Place the apples in a small baking dish.

Place approx 2 teaspoons of the oat mixture into the holes pushing down to pack the mixture in. Heap a further 1 - 2 teaspoons of mixture on top of the apple pressing down a little so that it doesn't all slide off the top.

Once you have used all of the oat mixture, place 4 tablespoons of warm water into the bottom of the baking dish. This helps prevent the apple from drying out whilst baking.

Bake in the centre of the oven for 40 - 50 minutes. Half way through this time you can baste the apples with some of the juices that are in the bottom of the dish.

Remove from the oven and serve warm with a scoop of low calorie ice cream, fat free yogurt or fat free cool whip!
Nutrition
Serving:
1
apple
Calories:
198
kcal
Carbohydrates:
40
g
Protein:
2
g
Fat:
5
g
Saturated Fat:
3
g
Polyunsaturated Fat:
1
g
Monounsaturated Fat:
1
g
Cholesterol:
7
mg
Sodium:
8
mg
Potassium:
248
mg
Fiber:
6
g
Sugar:
26
g
Vitamin A:
218
IU
Vitamin C:
8
mg
Calcium:
30
mg
Iron:
1
mg
More Low Calorie Apple recipes
If you love apples, you will love these low calorie apple recipes!
This Low Calorie Baked Oatmeal is one of my favourite low calorie breakfasts - working out at 220 calories per generous serving.