This Low Calorie Banana Bread recipe is simple to make, tastes delicious and contains half the calories of a traditional banana bread.
Working out at under 150 calories per slice this banana bread lets you to treat yourself without breaking your calorie controlled diet.
It is soft and moist and is topped with a drizzle of sweet glaze. You can even leave off the glaze to save yourself even more calories - it still tastes great!
I do use a little sugar in the recipe (rather than artificial sweetener) but a lot of the sweetness comes from the 4 bananas that are in the batter.
I prefer to use sugar in the recipe, but of course you could further reduce the calorie count per slice by swapping out the sugar for artificial sweetener. The choice is yours!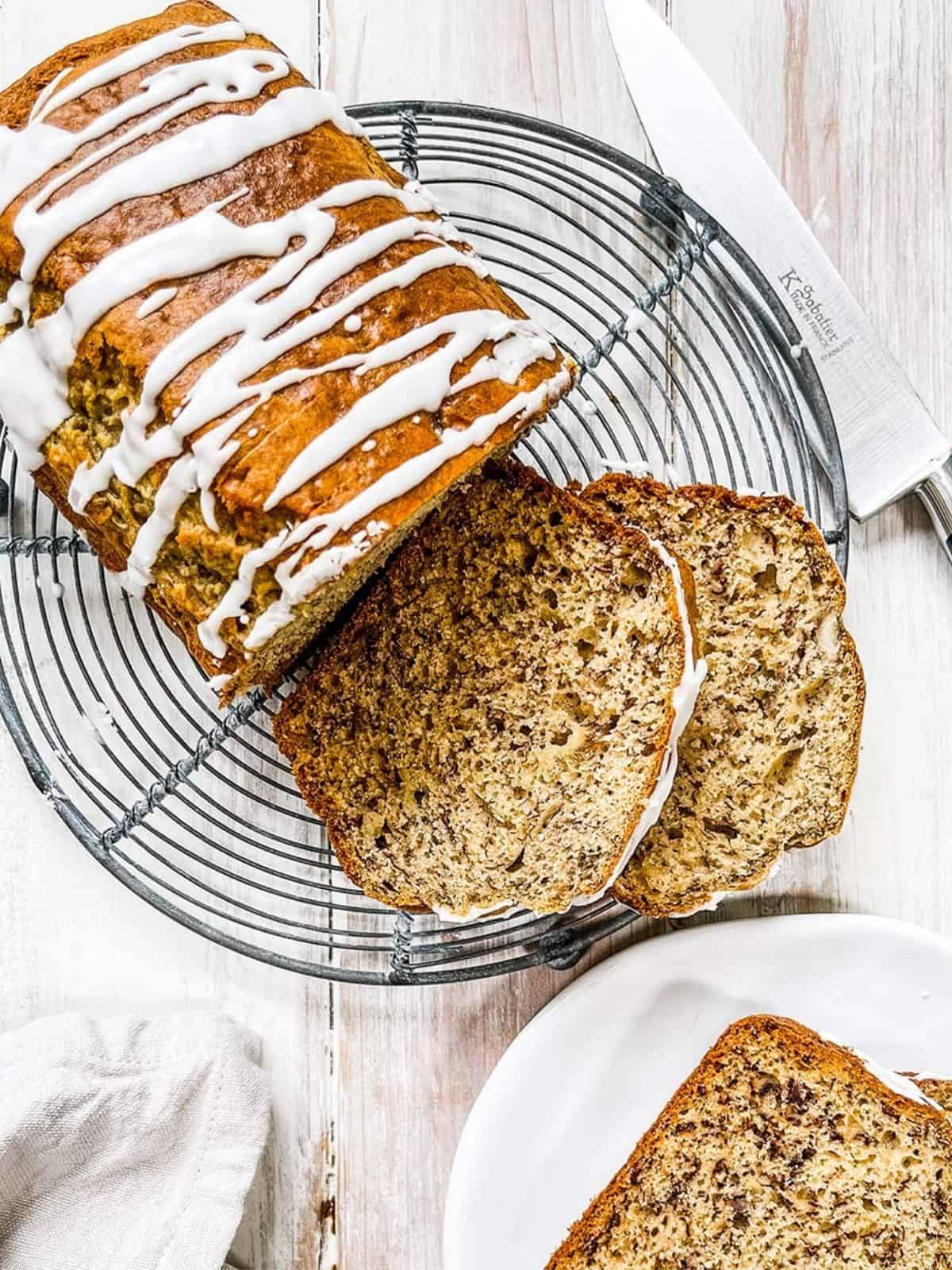 My go to banana bread recipe that I used to make ALL THE TIME before changing my eating habits and watching my calorie intake, used to work out at 284 calories per slice.
It was packed full of sugar and butter and although it tasted great, it didn't satisfy me anymore than this skinny version!
In fact, on balance, I probably even prefer this version.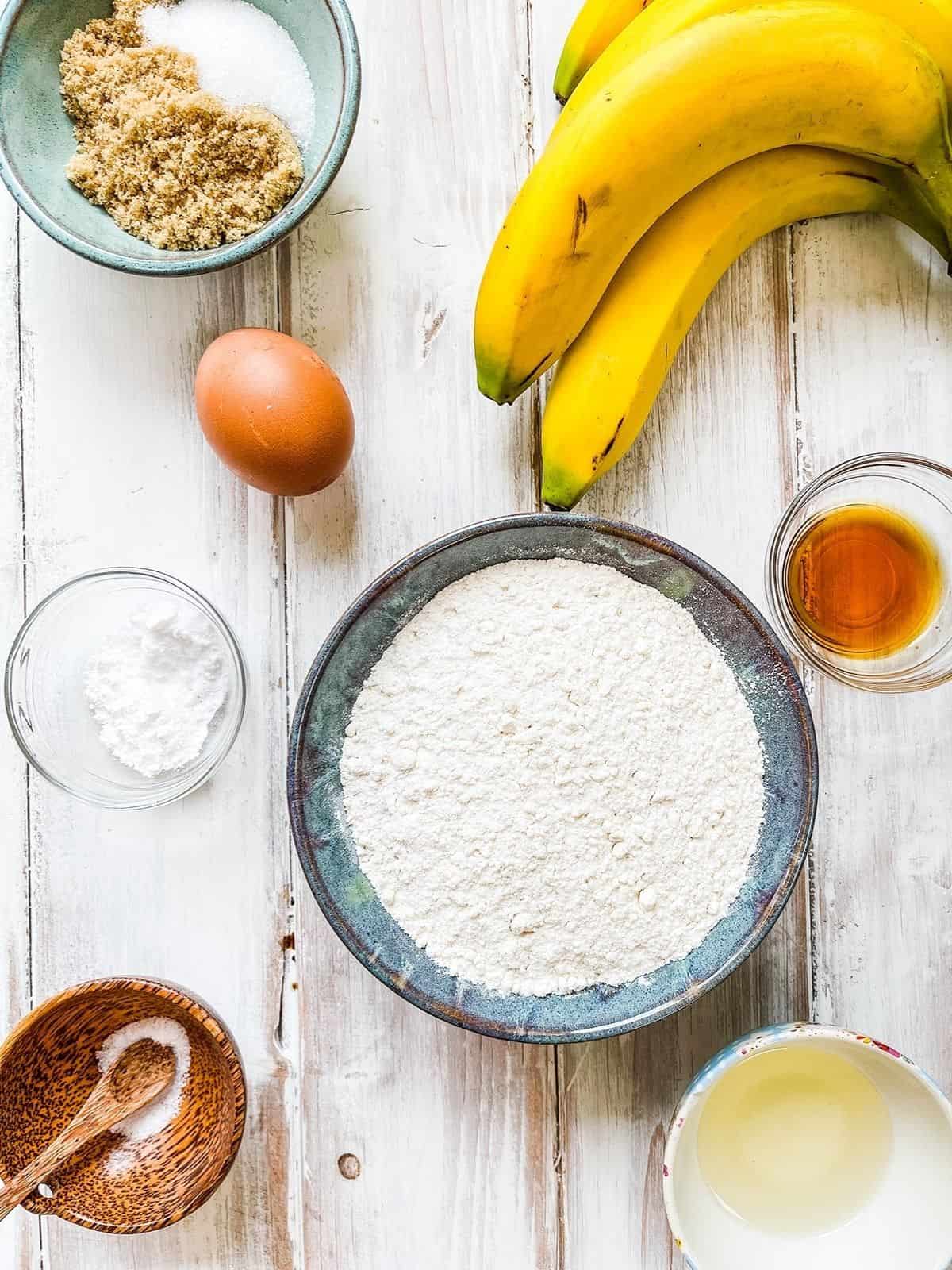 Ingredients in this Low Calorie Banana Bread
This recipe is made from ingredients that most people will have readily available in their kitchen cupboards.
All purpose flour
Bananas
Light brown sugar
White sugar
Salt
Baking powder
Baking soda
Vegetable oil
Egg
Vanilla extract
Powdered sugar
Should I use ripe bananas in Banana Bread
Most recipes suggest that you use over ripe bananas to make banana bread.
However, I don't tend to as I don't really like ripe banana!
Generally speaking, the riper the banana, the sweeter the finished bread will be, so if you like your banana bread really sweet then perhaps use over ripe banana.
Riper bananas are also easier to mash but I find that most of the time I can still mash banana perfectly well with the back of a fork or for ones that are a little tougher, with a potato masher.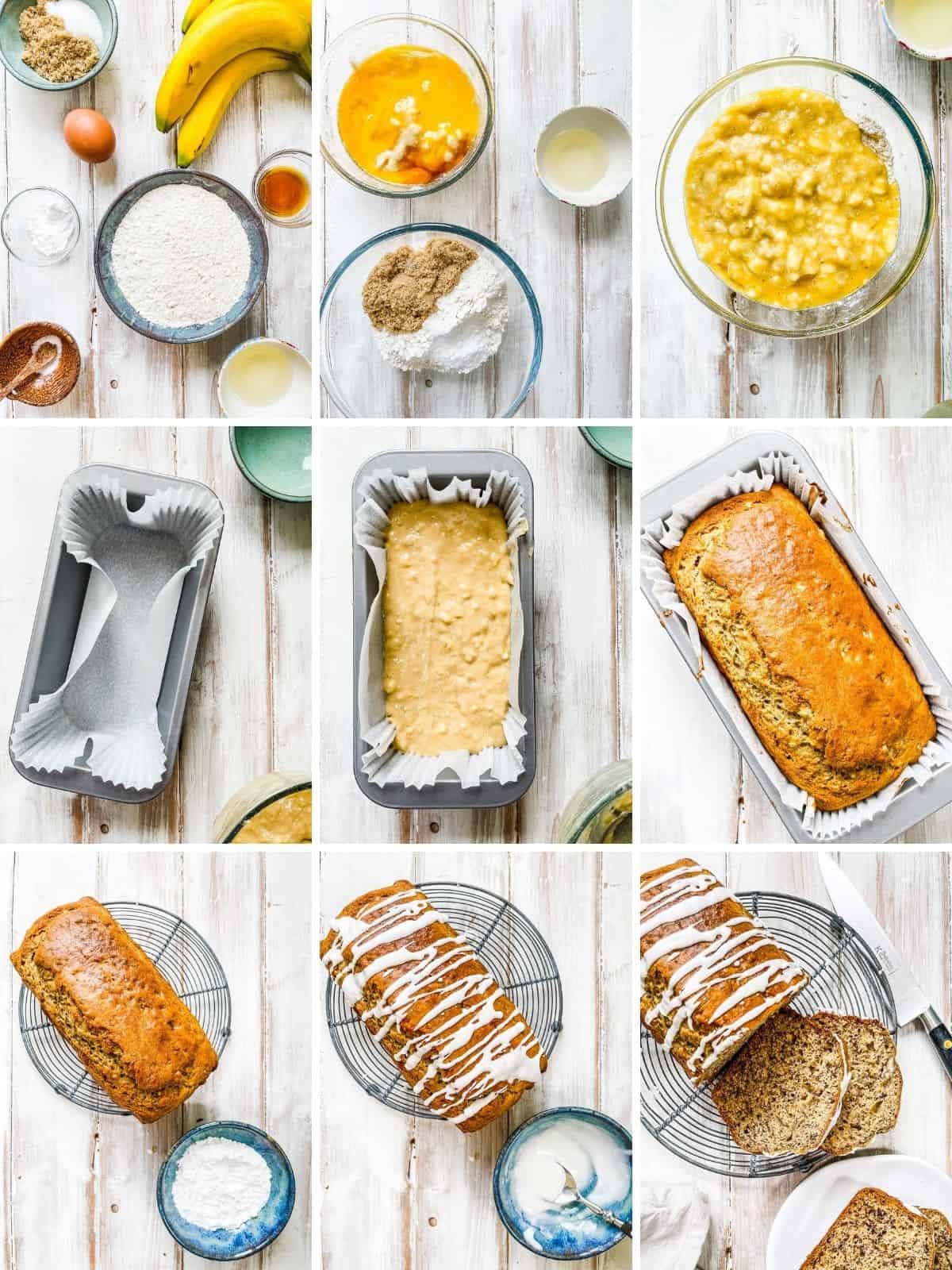 How to freeze banana bread
If you want to freeze this banana bread, I would suggest that you do so prior to glazing it.
Make sure the banana bread is completely cooled before wrapping it in a couple of layers of cling film / plastic wrap and placing it in a freezer bag.
You can also slice the loaf, wrap the individual slices and freeze it that way.
You can then remove a slice from the freezer anytime you fancy a low calorie treat! I have even frozen slices that have been glazed - it just means that the glaze is a little stickier when it defrosts! It tastes just as good though!
This banana bread can be kept in the freezer for up to 3 months.
To defrost, remove the loaf from the freezer and allow it to defrost at room temperature. The individual slices only take a couple of hours to defrost, the whole loaf will take longer.
Calorie saving tips!
I used 5 tablespoons of sugar in this recipe (4 tablespoons of brown sugar and 1 tablespoon of white sugar). That worked out at 228 calories.
You can swap out the sugar for artificial sweetener and reduce the calories by about 18 calories per slice (depending on the artificial sweetener that you use).
The powdered sugar for the glaze works out at 124 calories for the 4 tablespoons. If you do not glaze the banana bread you can reduce each slice by 10 calories.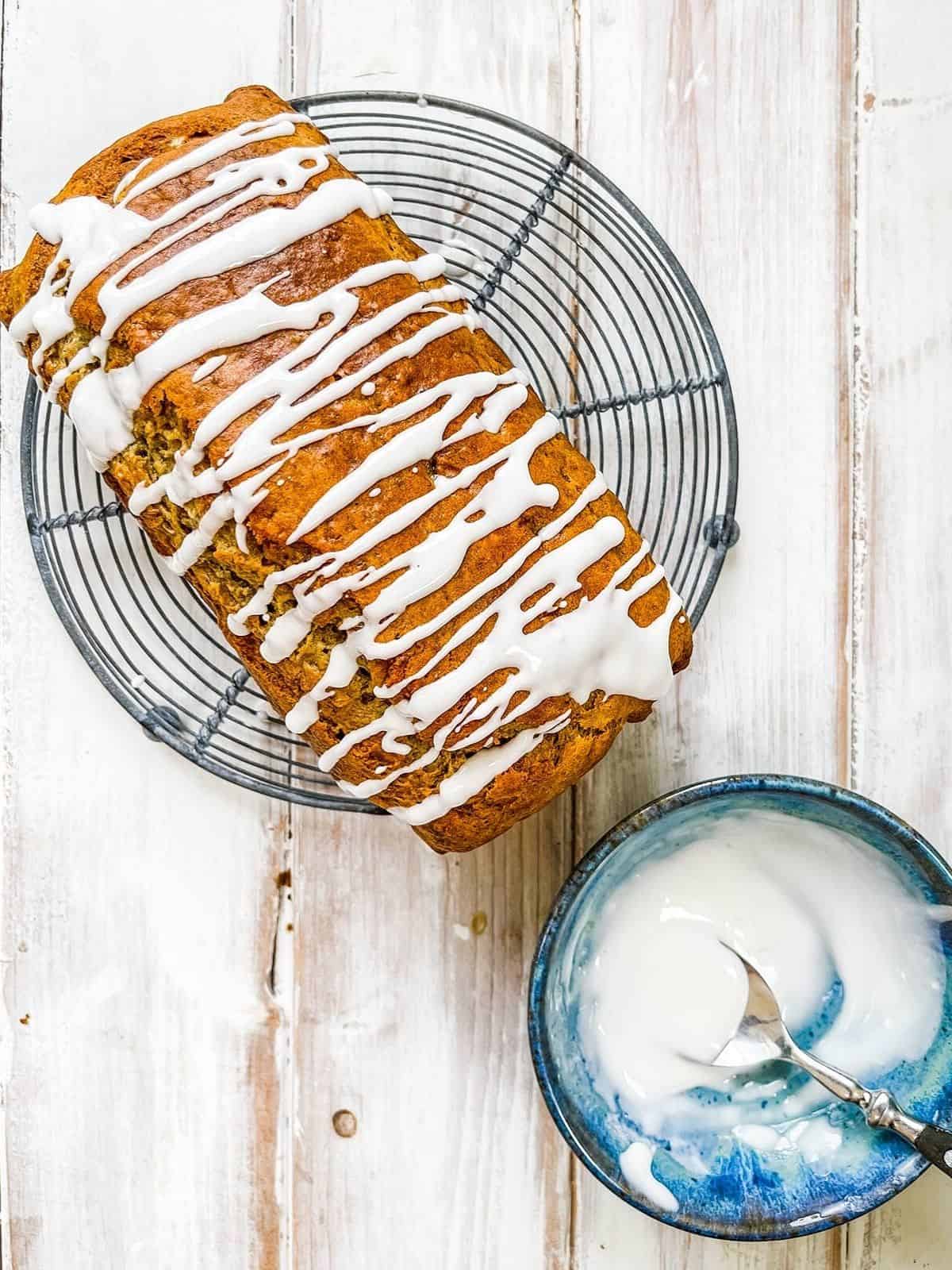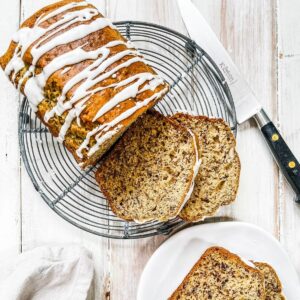 Low Calorie Banana Bread
This tasty Banana Bread is lacking in calories but not in taste! It's moist & flavorful so if you are looking for a lower calorie banana bread then try out this recipe.
Ingredients
4

medium

bananas

1

large

egg

whisked

2

teaspoon

vanilla extract

1.5

cups

all purpose flour / plain flour

(180g)

1

tablespoon

white sugar

4

tablespoon

light brown sugar

1

teaspoon

baking soda

1

teaspoon

baking powder

½

teaspoon

salt

2

tablespoon

vegetable oil

4

tablespoon

powdered sugar / icing sugar
Instructions
Preheat your oven to 350°F / 180°C / 160°C fan assisted.

Line a 9 x 5 inch loaf pan with baking parchment or a loaf pan liner.

Peel the bananas, break into chunks and place in a bowl. Use a fork to mash the chunks until they are smooth and mostly lump free.

Add the whisked egg and vanilla extract and mix.

In a separate bowl combine the flour, sugars, baking powder, baking soda and salt.

Add the banana mixture into the dry and use a spoon to mix all of the ingredients together until completely combined.

Spoon the mixture into the prepared loaf pan and place on the middle shelf of your oven.

Bake for 35 - 45 minutes or until the banana bread has risen and the top has turned golden brown.

Remove from the oven and leave in the pan for five minutes or so before turning it out from the pan on to a wire rack to cool.

Once the loaf has cooled you can make the icing.

Do this by combining the powdered sugar with a little bit of water to get a consistency that is good for drizzling. I usually start with adding ½ teaspoon of water, stirring that in and then adding ¼ teaspoons of water until I have an icing that is perfect for drizzling & doesn't just flow off the loaf.

Drizzle the top of the loaf with the icing and allow to set before slicing and enjoying!
Nutrition
Serving:
12
slices
Calories:
149
kcal
Carbohydrates:
29
g
Protein:
3
g
Fat:
3
g
Saturated Fat:
1
g
Polyunsaturated Fat:
1
g
Monounsaturated Fat:
1
g
Trans Fat:
1
g
Cholesterol:
16
mg
Sodium:
231
mg
Potassium:
170
mg
Fiber:
1
g
Sugar:
12
g
Vitamin A:
48
IU
Vitamin C:
3
mg
Calcium:
30
mg
Iron:
1
mg